Abuse survivor Marie Collins has said that a statement by the Vatican on child abuse goes further than similar statements in the past, but still fell short in some areas.
She was speaking after the Vatican released a statement saying that Pope Francis was on the side of victims of more than 300 "predator" priests in the United States who are accused of abusing over 1,000 children across seven decades.
Speaking on RTÉ's Today with Miriam, Ms Collins said the statement labels abuse as "criminal", whereas in the past it was described only as "sinful".
She said it was disappointing that the statement "falls short" when it spoke about holding those to account who had enabled abuse. 
Ms Collins said it should specifically have spoken about those "church leaders" who had enabled abuse.
She said the statement spoke about complying with civil law in terms of the mandatory reporting of child abuse, but she said it did not say church leaders must report abuse in countries where such reporting is not mandatory.
"Victims should know that the pope is on their side," the Vatican said in a statement after a devastating US grand jury report published on Tuesday decried a systematic cover-up by the Catholic church.
"Those who have suffered are his priority, and the church wants to listen to them to root out this tragic horror that destroys the lives of the innocent," the Vatican said.
"There are two words that can express the feelings faced with these horrible crimes: shame and sorrow," it said.
We need your consent to load this rte-player contentWe use rte-player to manage extra content that can set cookies on your device and collect data about your activity. Please review their details and accept them to load the content.Manage Preferences
"The Holy See condemns unequivocally the sexual abuse of minors. The abuses described in the report are criminal and morally reprehensible.
"The acts were betrayals of trust that robbed survivors of their dignity and in many cases, also their faith. The church must learn hard lessons from the past, and there should be accountability for both abusers and those who permitted abuse to occur."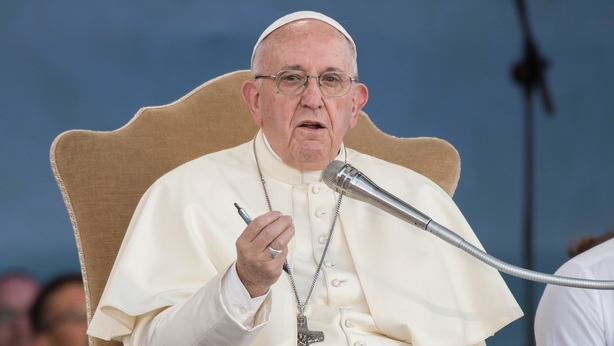 The US report is thought to be the most comprehensive to date into abuse in the US church since The Boston Globe first exposed paedophile priests in Massachusetts in 2002.
But while Tuesday's report led to charges against two priests, one of whom has pleaded guilty, the majority of those responsible are dead and the vast majority of crimes happened too long ago to prosecute, officials said.
The two-year investigation by a grand jury into all but two Pennsylvania dioceses turned up dozens of witnesses and half a million pages of church records containing "credible allegations against over 300 predator priests".
More than 1,000 child victims were identifiable, but the "real number" was "in the thousands," the grand jury estimated.
Victims were often traumatised for life, driven to drugs, alcohol and suicide, the grand jury said.
The only recourse was to recommend changes to the law and expose what had happened to make sure such widespread abuse was never repeated.
So far, only two new priests are being charged with crimes that fall within the statute of limitations.
The grand jury called for changes in the law that would scrap the statute of limitations for child sex abuse, give victims more time to file civil lawsuits and tighten legislation compelling people to report abuse they find out about.
Abuse survivor and Chief Executive of Amnesty International in Ireland Colm O'Gorman has said the Vatican now making it clear that church authorities should co-operate with civil law is a welcome move but, he said, it was not backed up by actions in advance of the Pennsylvania report or subsequently.
"We are seeing a reaction and on one level this is welcome", he said. But the Vatican's expression of shame and sorrow was hard to take, he added.
Speaking on RTÉ's Morning Ireland, he said "it was almost as if this was a surprise" to the church.
Mr O'Gorman said: "It's been the case now for many decades that the Vatican itself asserts absolute exclusive competence in deciding what happens in cases where priests are accused of sexually abusing children. All cases have to [be] notified to the Congregation for the Doctrine of the Faith, who decides what happens.
"It can't be the case given that all the information that the grand jury considered came from secret diocesan and church archives ... It can't be the case that the Vatican didn't know about this before the grand jury report."
He said the pope was saying that he is on the side of victims, yet in Pennsylvania, church leaders were resisting efforts to extend the statute of limitations in order to allow victims access to justice.
He said all the way through this investigation a great many church leaders declined to be interviewed.
Mr O'Gorman said the Vatican knew this was going on and he asked why it simply did not instruct all bishops to co-operate with the process.
There are widespread accusations that the Catholic church ignored and covered up child abuse in countries from Ireland to Australia to Chile.