Unable to get answers from Syrian authorities since he disappeared, family members used to ask anyone who had spent time in custody if they had seen the eldest Satati boy.
A carpenter, a husband, a father: Zuhair was never seen again after he was taken away at a government checkpoint in 2013.
For six years Amina al-Khoulani hoped her brothers Majd and Abdelsattar were alive, if not necessarily well after their arrest early in Syria's war.
But in recent weeks, like the families of hundreds of others, the al-Satatis and al-Khoulanis learned of the fate of the family members who had been in custody: They had died years previously.
Speaking to RTÉ News during the week, Ahmad Satati, who is studying in Ireland, recalled his brother's disappearance at a government checkpoint. "He was stopped in his car, with my mother and they checked his ID card and said: 'You are going to come with us'."
Zuhair's fate was revealed two weeks ago in a document received by a family member, who still lives in Syria. It gave no information about the cause of his death or the whereabouts of Zuhair's body.
"The document said his name, wife's name, his children's name and stuff like that and 'Dead since 2014', just like that. No more. Just that he is dead. We couldn't even ask 'Where is his body?' They would say we don't know. Just this document that he is dead," Ahmad said.
Hundreds of similar documents have been issued as official lists of the dead have been gradually updated by the Syrian authorities since April.
While Ahmad strongly suspected his brother had died, Amina al-Khoulani told Reuters that she held out hope her brothers were alive. "We used to hear a lot of reports that they had been executed. We know that the regime is criminal and is capable of doing this but you always have hope that this is untrue." 
According to the updated list, her brothers died in January 2013.
Both families came from the Damascus suburb of Darraya. Amina's brothers took part in the protests there in 2011, she says. Zuhaid Satati was not active in protests at all, according to Ahmad. "I would say that I participated with the movement, but my brother, he hasn't done anything at all."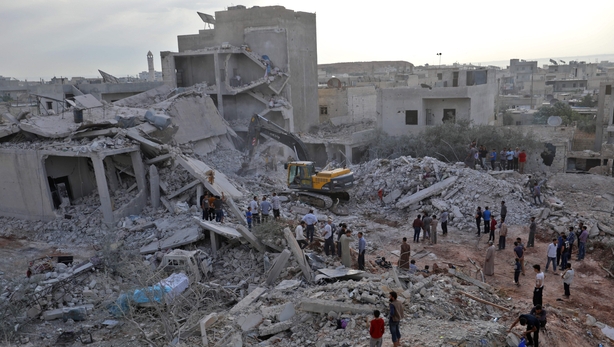 Darraya was fully retaken by the Syrian Army in 2016 in a truce agreement that saw hundreds of former rebel fighters and civilians evacuated. Some went to the Idlib near the Turkish border. As the Syrian Army has re-established control of the south of the country in recent months, it's widely expected - not least due to intensified airstrikes - that the northern area will be the focus of the next push.
Former British Army officer Hamish de Bretton Gordon - now working with the medical charity UOSSOM - told RTÉ the updated death lists will play heavily on the minds of those from Darraya and elsewhere now living in the northern province: "Lots of people say: 'Why don't these people give up?' We've had all the revelations recently about all of the people who have died in the jails. A lot of these are relatives of those that are remaining. A few people we've talked to [have said] 'There's no way we're going to give up. Assad's killed all our family', there's no way."
Before the outbreak war in 2011, Idlib's population was about 1.5 million. This has been swelled by at least two million more internally displaced people (IDPs) fleeing the war elsewhere in the country. As the Assad regime besieged, bombarded and then retook Eastern Aleppo in 2016, Ghouta in 2017 and Douma earlier this year, rebel militants and civilians were given safe passage to the 'de-escalation zone' in Idlib - an area slightly smaller than Co. Cork.
Many IDPs in idlib - a sizeable proportion of whom have been displaced multiple times in the conflict already - live either in temporary shelters or half-bombed buildings and are dependent on aid. They are hemmed in by the Turkish border in the north and government forces to the south. Islamist militants control the zone itself. They in turn are in conflict with each other.
Hayat Tahrir Al-Sham (HTS) - a group led by former al-Qaeda affiliates - is the dominant faction. HTS is engaged in fighting Islamic State cells, who are waging a campaign of car bombings and assassinations. The Syrian Liberation Front was also engaged in heavy fighting with HTS earlier this year.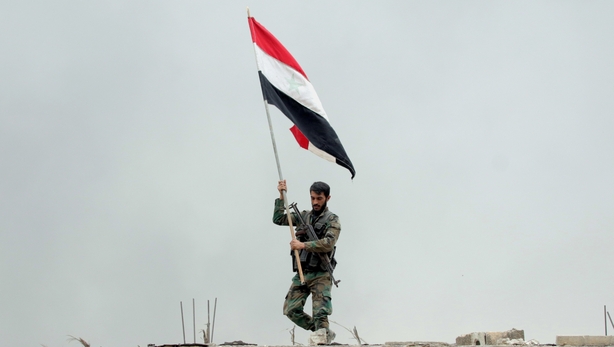 But running through Idlib is the main Damascus-Aleppo highway. This vital artery means the province is too important to government forces to be left indefinitely in the hands of armed rebel groups.
Since the spring, the Syrian Army and its allies have taken back Daraa, where the street protests began in 2011, and Quneitra in the Golan Heights. In doing so it has secured its southern border with Jordan and Israel respectively.
Earlier this month Israeli Defence Minister Avigdor Lieberman told reporters it was 'game over' in the fight for southern Syria, from Israel's point of view.
"From our perspective, the situation is returning to how it was before the civil war, meaning there is a real address, someone responsible, and central rule," he told reporters.
His comments add to those of an anonymous Israeli official quoted in July by Reuters following the meeting between Prime Minister Benjamin Netanyahu and Russian President Vladimir Putin: Israel can live with Assad if Russia ensures there is no Iranian or Hezbollah build-up near its borders, the unnamed diplomat said.
Russia's relations with Syria's northern neighbour Turkey are also vital in President Assad's approach to Idlib. In a piece in 'Al-Monitor' Maxim Suchkov of the Russian International Affairs Council quotes a Russian Foreign Ministry official on the tacit understanding between Turkey and Russia: "A certain level of understanding has been reached with Turkey that there should be no offensive on Idlib in the immediate term. We took into account the concerns our Turkish partners have with regard to an outburst of refugees. Based on earlier discussions and talks in Sochi, we'll be co-operating in fighting terrorists there and will see what happens." 
The terrorists Russia particularly wants to target, according to Suchkov, are those who travelled to Syria from the Caucuses.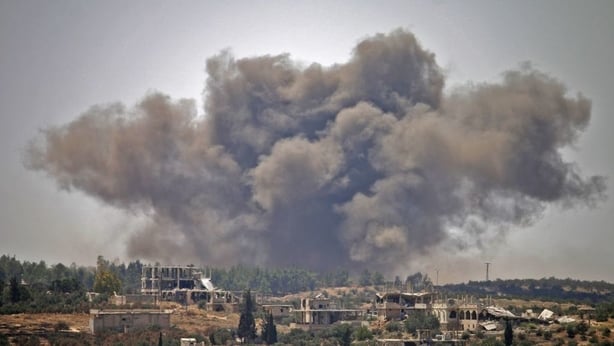 The TASS news agency in late July quoted Russia's Special Envoy for Syria Alexander Lavrentiev as saying: "Any large-scale operation in Idlib is out of the question." 
Turkey's presence in Idlib, as well as in the Kurdish area around Afrin in northern Syria makes an all-out assault a riskier prospect than the campaign in the south. With Syria heavily dependent on Russian airpower since 2015, it will have to pay heed to President Putin's wishes, even if it would like a comprehensive finale to the war.
The militant groups in Idlib, particularly those evacuated from other enclaves, may be the toughest challenge yet. But could the existing divisions between the groups be exploited by Assad and offer an alternative to 'shock and awe' alone?
The retaking of East Ghouta near Damascus was analysed in 'Foreign Policy' by Middle East expert Aron Lund ('Assad's Divide and Conquer Strategy is Working' - March, 2018). Lund teases out the backchannels of communication maintained by Syrian Army commanders with some rebel factions. As well as the army's deployment of "brute force and a choking five-year siege", opposition rivalries also played a key part.
"The opposition rivalries have turned out to be Assad's trump card, allowing him to shut down rebel regions one by one while using his regime's considerable social and economic leverage to split and undermine his enemies in ways only intermittently visible to the outside world," Lund argues.
Whichever approach is taken, the beleaguered civilians of Idlib would doubtless agree with the Norwegian Refugee Council's Jan Egeland, Chair of the UN Humanitarian Task Force on Syria.
Speaking to RTÉ's This Week programme in April, Mr Egeland said: "This is a cruel war that has lasted for too long. Men with guns and power should have agreed on ending this senseless war a long time ago for the benefit of the civilian population."