North Korea has said the United States is acting with "alarming" impatience on the issue of denuclearisation, after Secretary of State Mike Pompeo stressed the need to maintain full sanctions pressure on Pyongyang.
The contrasting comments at a security forum in Singapore came after a new UN report showed Pyongyang was continuing with its nuclear and missile programmes and evading sanctions through ship-to-ship oil transfers.
At talks with US President Donald Trump in June, North Korea's leader Kim Jong-un signed up to a vague commitment to "denuclearisation of the Korean Peninsula" - a far cry from long-standing US demands for complete, verifiable and irreversible disarmament.
While US officials have publicly been optimistic about the agreement, Pyongyang appears to have made little substantial progress and Washington has become concerned that some UN member states are easing sanctions.
At the ASEAN Regional Forum, North Korea's Foreign Minister Ri Yong Ho criticised US impatience on denuclearisation.
"What is alarming, however, is the insistent moves manifested within the US to go back to the old, far from its leader's intention," he said, according to a statement.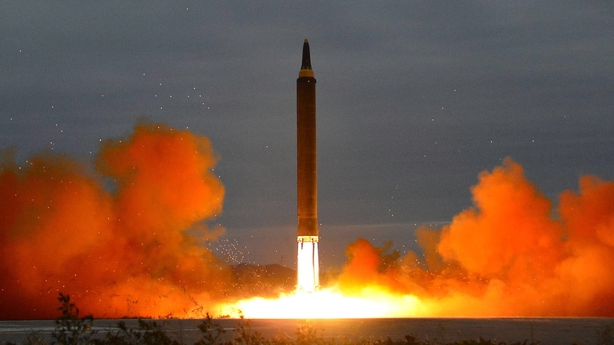 Since the June agreement, Pyongyang had taken "goodwill measures", including a halt on nuclear and missile tests and "dismantling a nuclear test ground", he said.
"However, the United States, instead of responding to these measures, is raising its voice louder for maintaining the sanctions against the DPRK," he said, using the initials of the North's official name.
"As long as the US does not show in practice its strong will to remove our concerns, there will be no case whereby we will move forward first unilaterally," Mr Ri added.
We need your consent to load this rte-player contentWe use rte-player to manage extra content that can set cookies on your device and collect data about your activity. Please review their details and accept them to load the content.Manage Preferences

Earlier at the same forum, Mr Pompeo said he was emphasising "the importance of maintaining diplomatic and economic pressure on North Korea" but also said that he was "optimistic" about the prospects for progress when it came to North Korean denuclearisation.
At today's meeting, the US delegation also delivered a letter from Mr Trump intended for Mr Kim, by passing it to Mr Ri, said the State Department.
On sanctions, Mr Pompeo singled out Russia after reports suggested Moscow breached sanctions by granting work permits to North Korean workers.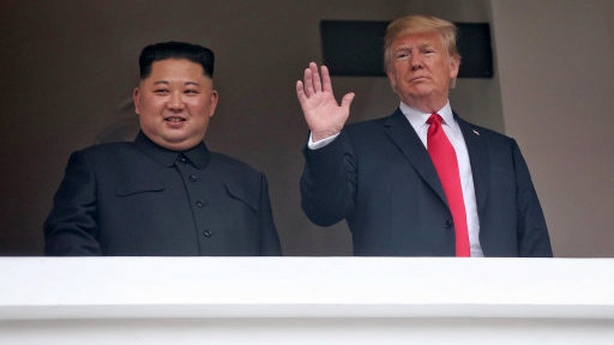 During meetings with other foreign ministers in Singapore, Mr Pompeo said he had called specifically for sanctions to be enforced through halting ship-to-ship oil transfers.
Cutting off oil and fuel to the North would require enforcement primarily by China, which supplies most of North Korea's energy needs, but also by Russia, which delivers some oil to Pyongyang.
Today's forum, hosted by the Association of Southeast Asian Nations (ASEAN), brings together top diplomats from 26 countries and the European Union for talks on political and security issues.