Pope Francis has accepted the resignation of a US cardinal following "credible" allegations that he abused a teenager almost 50 years ago.
Theodore McCarrick, 88, was ordered to cease public ministry last month.
Today, the Vatican said the pontiff had accepted Cardinal McCarrick's resignation and ordered him to a life of "prayer and penance" and to "remain in a house yet to be indicated to him".
The Vatican also said the cardinal will face a church trial over the allegations.
The Vatican said in a statement that Cardinal McCarrick had sent his resignation letter to the pope last night.
"Pope Francis accepted his resignation from the cardinal and has ordered his suspension from the exercise of any public ministry, together with the obligation to remain in a house yet to be indicated to him, for a life of prayer and penance until the accusations made against him are examined in a regular canonical trial," the statement said.
Earlier this week, Cardinal Sean O'Malley of Boston called for the Vatican to "swiftly and decisively" adopt strict policies for cases of sexual abuse involving bishops and top clergy.
He said on Tuesday that he was "deeply troubled" by the case of Cardinal McCarrick and that it and others "raise up the fact that when charges are brought regarding a bishop or a cardinal, a major gap still exists in the Church's policies on sexual conduct and sexual abuse".
Cardinal McCarrick was one of the US church's most respected leaders, particularly when he was archbishop of Washington DC from 2000 to 2006 and was a confidant of popes and presidents.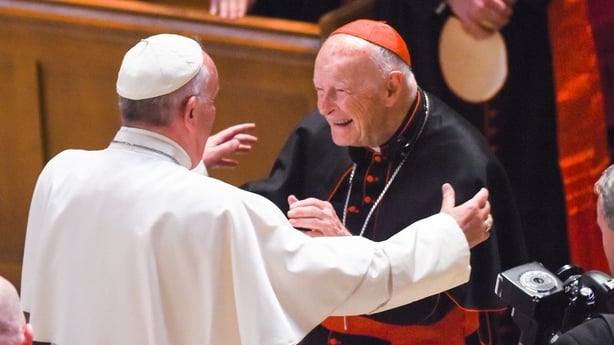 Since then, several men have come forward to allege that he had forced them to sleep with him at a beach house in New Jersey when they were adult seminarians studying for the priesthood.
           
Cardinal McCarrick has said he had "absolutely no recollection" of the alleged abuse of the minor but has not commented on the allegations of abuse of adult men.
The New York Times reported last week that two dioceses in New Jersey had reached financial settlements in 2005 and 2007 with men who said they were abused by him as adults decades ago.
Cardinal McCarrick was ordained a priest in 1958 and rose through the ranks in the Archdiocese of New York before being installed as archbishop of Washington in 2001.
The claims against him were made public in June by Cardinal Timothy Dolan, the current archbishop of New York.
Cardinal Dolan said an independent forensic agency "thoroughly investigated" the allegation.
A review board that included jurists, law enforcement experts, parents, psychologists, a priest and a religious sister then "found the allegations credible and substantiated".
In 2013, Cardinal Keith O'Brien of Scotland recused himself from participating in the conclave that elected Francis after he was caught up in a sexual abuse scandal involving seminarians.
He later renounced rights and privileges of being a cardinal but kept his red hat and title until his death earlier this year.
The last person to resign from the College of Cardinals is believed to be French theologian Louis Billot, who left over a disagreement with Pope Pius XI in 1927, according to the National Catholic Reporter.