The United States has called on North Korea to act on its promise to give up its nuclear weapons and said the world, including China and Russia, must continued to enforce sanctions until it does so.
After informally briefing the UN Security Council in New York, US Ambassador to the United Nations Nikki Haley and US Secretary of State Mike Pompeo complained of slippage in enforcement of UN sanctions on North Korea, despite Pyongyang's failure so far to act on its pledge to denuclearise.
Ms Haley told reporters there had been 89 violations of oil sanctions in the first five months of the year and that the United States had photographic evidence of ship-to-ship transfers.
Mr Pompeo, who held inconclusive talks with North Korea this month, said there was a need to stop other sanctions breaches, including the smuggling of North Korean coal, and to crack down on the presence of North Korean guest workers in some countries.
Mr Pompeo's talks followed an unprecedented summit between US President Donald Trump and North Korean leader Kim Jong-un last month at which Mr Kim agreed to work toward the denuclearisation of the Korean peninsula.
Mr Pompeo reiterated that he had made progress in his talks in North Korea.
However, in an apparent sign of frustration with a lack of concrete action by Pyongyang, he said: "So what do we need to see? We need to see Chairman Kim do what he promised the world he would do. Its not very fancy, but it's the truth."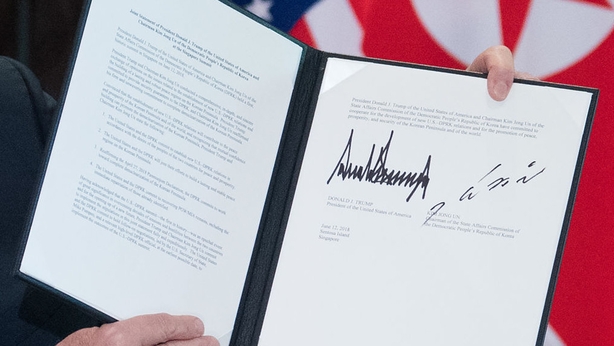 Ms Haley complained that China and Russia had blocked a US move this week to halt all additional shipments of refined petroleum products to North Korea.
China is the North's closest ally.
"We put pressure today on China and Russia to abide and be good helpers through this situation and to help us continue with denuclearisation," she said.
"If we want to see success, we have to see a response from Chairman Kim and we have to continue to hold the line until that happens."
Russia's Deputy UN Ambassador Dmitry Polyanskiy told Reuters there was no reason for Mr Haley to reproach Russia.
He said: "We abide by all decisions. We just ask questions totally in line with sanction committee rules ...we didn't block anything - we put it on hold. She needs to study basics more!
China's UN Ambassador Ma Zhaoxu said China was committed to denuclearisation of the Korean peninsula and to the promotion of dialogue and negotiations.
Everybody should fully implement resolutions passed by the Security Council, he told reporters.