The number of Afghan civilians killed in the country's long-running conflict hit a record high in the first six months of 2018, according to figures by the United Nations.
The figures showed militant attacks and suicide bombs as the leading causes of death.
The toll of 1,692 fatalities was 1% more than a year earlier and the highest for the period since the United Nations Assistance Mission in Afghanistan (UNAMA) began keeping records in 2009.
Another 3,430 people were wounded in the war, down 5% from the same period last year, the report said.
Overall civilian casualties – standing at 5,122 - fell 3% year-on-year.
The record high death toll came despite an unprecedented ceasefire by Afghan security forces and the Taliban last month that was largely respected by both sides, UNAMA said.
The ceasefire for the first three days of Eid was marked by scenes of jubilation as security forces and Taliban fighters celebrated the Islamic holiday, raising hopes that peace was possible after nearly 17 years of conflict.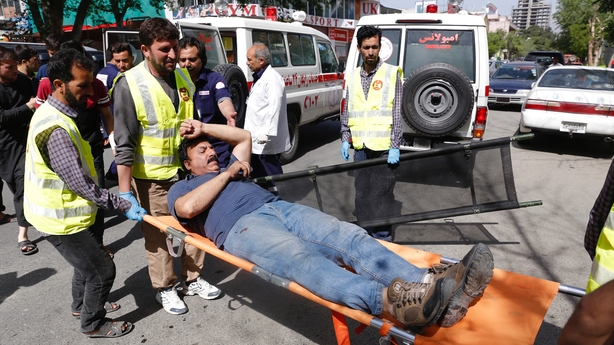 But the suspension of hostilities was marred by two suicide attacks in the eastern province of Nangarhar that killed dozens of people and were claimed by the so-called Islamic State group, which was not part of the ceasefire.
The Taliban refused a government request to extend the truce, returning to the battlefield and ignoring calls to enter talks with Kabul to end the war.
"The brief ceasefire demonstrated that the fighting can be stopped and that Afghan civilians no longer need to bear the brunt of the war," Tadamichi Yamamoto, the UN Secretary-General's Special Representative for Afghanistan, said.
"We urge parties to seize all opportunities to find a peaceful settlement - this is the best way that they can protect all civilians."
Suicide bombs and "complex" attacks that involve several militants accounted for 1,413 casualties - 427 deaths and 986 injuries - up 22% from a year earlier.
If that trend continues, the figure will top the 2017 full-year record of nearly 2,300 casualties.
UNAMA attributed 52% of suicide and complex attacks to IS, mainly in Kabul and the eastern province of Nangarhar where the group established a stronghold after emerging in Afghanistan in 2014.
The Taliban was responsible for 40% of such attacks.
While the Taliban is Afghanistan's largest militant group and holds or contests more territory than any other, IS has repeatedly demonstrated its ability to carry out devastating attacks in urban areas.
The latest report comes almost a year after US President Donald Trump announced his new South Asia strategy that involved ramping up American air strikes against militants.