US President Donald Trump hailed "tremendous progress" on defence spending commitments by NATO members, saying two days of tough talks had left the alliance "much stronger".
"We made a tremendous amount of progress today," Trump said after emergency talks with fellow NATO leaders prompted by his demands for allies to boost military budgets immediately.
"Everyone's agreed to substantially up their commitment - they're going to up it at levels they've never thought of before."
However, French President Emmanuel Macron said that NATO's spending commitments remained the same, but the organisation was nevertheless "much stronger".
"President Trump knows that the United States has been able to find NATO at key moments in its history... I think that NATO is a good thing for the United States," the French leader said, adding that the US was a "great partner, a great ally for us."
Mr Trump had "reaffirmed his commitment to a strong NATO".
"As with all our summits, sometimes the corridors, comments and tweets take on more importance than what is negotiated, said or endorsed by heads of state," Mr Macron said.
"I believe only one thing: the communique we have approved, the strategy we defend and the seriousness we have, because it is the security of our people we are talking about," he added.
Mr Trump said he pushed NATO leaders to increase their commitments to "levels they've never thought of before."
But Mr Macron responded that "the communique is clear: it reaffirms the commitment to 2% (of GDP on defence spending) for 2024."
The US leader had thrown the summit into crisis by demanding countries meet a spending target of 2% of GDP immediately, instead of by 2024, and to eventually double spending to 4%.
Mr Trump has long complained that European countries do not spend enough on their own defence, leaving the US to shoulder an unfair burden for protecting the continent.
"I let them know I was extremely unhappy with what was happening and they have substantially upped their commitment and now we're very happy and have a very, very powerful, very strong NATO, much stronger than it was two days ago," he said.
NATO members have committed to spending at least 2% of GDP on defence by 2024, though the terms allow for stretching that in some cases to 2030.
The United States, far the biggest economy, spent 3.6% last year, while Germany, the second biggest, paid out just 1.2% and only a handful of countries met the 2% target.

Mr Trump told leaders he wanted them all to hit that target by January, prompting consternation.
Many have already settled their 2019 budgets and the sums involved are immense - even if they wanted to, many would struggle to make useful purchases.
German Chancellor Angela Merkel told reporters there followed a discussion with assurances to Mr Trump that spending was increasing - something he later acknowledged was happening at an unprecedented rate.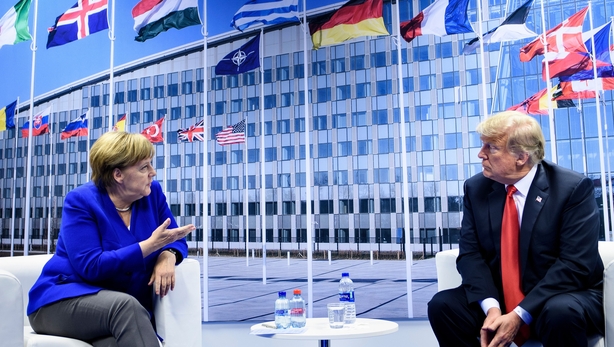 "The American president demanded what has been discussed for months, that there is a change in the burden sharing," Ms Merkel said
"I made clear that we are on this path. And that this is in our own interests and that it will make us stronger."

Asked when exactly the allies would now reach their 2% of GDP target, Mr Trump said it would over the coming years.
NATO Secretary General Jens Stoltenberg told CNN that the organisation's member countries have committed to defence spending at 2% of GDP, but would not confirm Mr Trump's claim that the target was actually 4%.
"So we have a commitment to spend 2%. The important thing now is that we need to invest more - we need to get more money.
"And the good thing is that, very much because of that very clear message from President Trump on this meeting, I think that allies understand this need to do that," Mr Stoltenberg said after being repeatedly asked about Mr Trump's assertion that NATO members had agreed to a 4% goal.
Mr Trump stated his commitment to NATO, speaking after reports that he had warned leaders that the United States could pull out of the alliance if other members failed to increase their contributions.
"The US were not treated fairly, but now we are. I believe in NATO," Mr Trump told a press conference after a fraught NATO summit in Brussels.
"The US commitment to NATO remains very strong," Mr Trump added, "mainly because (of) the additional money they've committed."
Asked about Mr Trump's criticisms of Germany, Mr Macron said that Paris and Berlin had a "joint destiny" and that Berlin was an "indispensable partner" for France.
Aslo during the press conference after the summit, Mr Trump was asked whether he would go on to change his mind and scrap the funding agreement in a tweet.
"No, that's other people that do that," he replied. "I'm very consistent. I'm a very stable genius."
Donald Trump congratulates Croatia on beating England in the World Cup, and denies suggestions he says one thing and tweets something different. | https://t.co/1eRsMxo6Cj pic.twitter.com/tpIbM6pOlv

— RTÉ News (@rtenews) July 12, 2018
Mr Trump also said a meeting with Russian counterpart Vladimir Putin next week may be the easiest on his Europe trip, saying Moscow was a competitor and not an enemy.
Asked if Mr Putin presented a threat, Trump said, "I don't want him to be and that is why we have NATO".
"He is a competitor," Mr Trump told reporters. "Is he my enemy? He is not my enemy ... Hopefully someday maybe he will be a friend. I just don't know him very well."
Mr Trump said he would raise issues of arms control, extending new start treaty, and Russia violations of INF treaty in Putin talks.
"We go into that meeting not looking for so much. We want to find out about Syria. We will be talking about meddling ... We will be talking about Ukraine."