British Prime Minister Theresa May pressed Donald Trump for a trade deal between Britain and the United States after the US president arrived in the UK this evening.
At a banquet at Blenheim Palace Theresa May told President Trump that there was an "unprecedented" opportunity to do a deal that boosted jobs and growth in both countries.
But her address to Mr Trump at the Oxfordshire stately home - the birthplace of Winston Churchill - followed a Brussels press conference where the US leader highlighted divisions in Mrs May's government over Brexit.
Addressing the US president in front of an audience of business leaders and senior ministers, Mrs May said: "As we prepare to leave the European Union, we have an unprecedented opportunity to do more.
"It's an opportunity to reach a free trade agreement that creates jobs and growth here in the UK and right across the United States.
"It's also an opportunity to tear down the bureaucratic barriers that frustrate business leaders on both sides of the Atlantic.
"And it's an opportunity to shape the future of the world through co-operation in advanced technology, such as artificial intelligence."
Britain and the US are the largest investors in each other's economies, with over a trillion dollars of investments between them, Mrs May, said, adding: "The strength and breadth of Britain's contribution to the US economy cannot be understated."
We need your consent to load this rte-player contentWe use rte-player to manage extra content that can set cookies on your device and collect data about your activity. Please review their details and accept them to load the content.Manage Preferences
Meanwhile, in an interview with the Sun newspaper, Donald Trump warned Theresa May that her Brexit plan could "kill" any UK-US trade deal because Britain would remain so closely aligned to the European Union.
The US president said he would have done the Brexit negotiations "much differently" and claimed the Prime Minister did not listen to his advice.
Ahead of his arrival in London, Mr Trump described Britain as a "hot spot" that is in turmoil due to a political crisis over its decision to leave the European Union.
He also said that Brexit seems to be turning differently where Britain is getting partially involved again with the EU.
Mr Trump made the comments at an unscheduled press conference after a NATO summit in Brussels, where he said that Brexit happened because of immigration.
"I am going to a pretty hot spot right now with a lot of resignations."
However, he said, it was not for him to say what the UK should be doing but he would like to see them work out Brexit quickly.
"I would say that Brexit is Brexit, the people voted to break it up so I would imagine that's what they'll do".
He added it seemed as if the UK was "getting at least partially involved back with the European Union".
"I'd like to see them be able to work it out so it could go quickly," he said.
His four-day trip to the UK is expected to leave taxpayers with a police and security bill of up to £10m.
After spending the night at the US ambassador's official residence, Mr Trump will join Mrs May at a military base tomorrow to observe a joint counter-terrorism exercise involving UK and US special forces.
The two leaders will hold talks at Mrs May's country residence of Chequers where Russia, Brexit and the Middle East will top the agenda.
Mr Trump will then travel to Windsor Castle to meet Queen Elizabeth before heading to Scotland for a private part of the four-day visit, ahead of travelling to Helsinki for a summit with Russian President Vladimir Putin.
Opponents have threatened mass protests against the visit, but Mr Trump is expected to avoid areas such as central London where demonstrators could gather.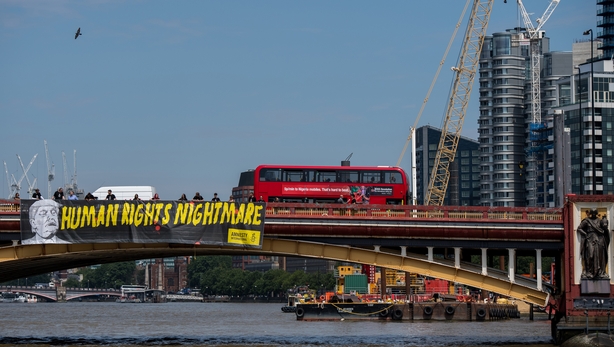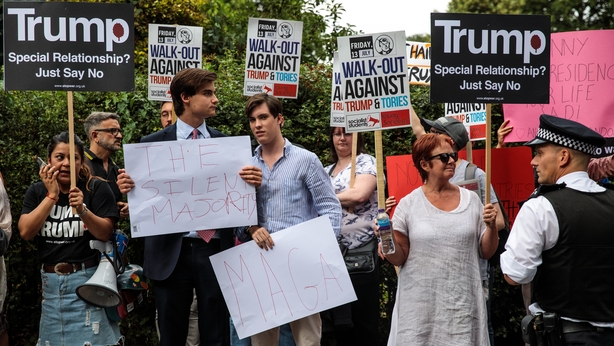 Speaking about the planned protests Mr Trump told reporters: "They like me a lot in the UK. I think they agree with me on immigration."
He added: "I think that's why Brexit happened."
He said he had warned his EU partners that "immigration is taking over Europe" during the NATO summit.
"Immigration is a very important thing and I told them today, the EU, the European Union, better be a very careful because immigration is taking over Europe and they better be very, very careful."
"I said that loud and clear."
Mrs May will be seeking to improve her often publicly strained relationship with the US president as she pushes for a post-Brexit trade deal with the US.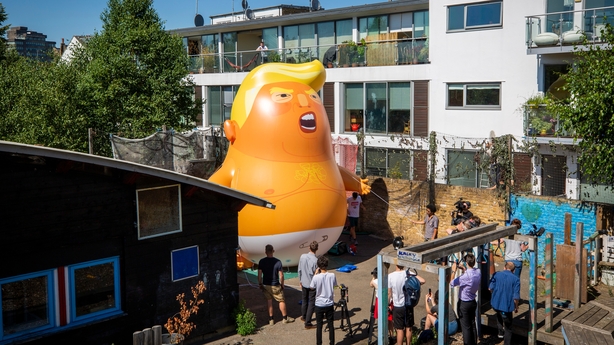 Mr Trump raised eyebrows when he went out of his way to praise Boris Johnson after he resigned as foreign secretary, while insisting it was up to the British people whether Mrs May remained in office or not.
The US president also suggested his summit with Mr Putin could prove to be the easiest part of his European tour compared with the NATO meeting and UK visit.
Tension could also be sparked as Mrs May expects the US president to remember the "malign behaviour" of Russia when he meets Mr Putin.
Downing Street has made it clear that Mrs May wants the US leader to raise issues such as the Salisbury nerve agent attack on former spy Sergei Skripal and his daughter Yulia at the meeting.
Additional reporting Fiona Mitchell