A search operation is under way for survivors in western Japan after torrential rains triggered floods and landslides that killed at least 122 people, with dozens missing.
Rain has eased off across the region battered by last week's downpour, with temperatures expected to be above 30C, fuelling fears of heatstroke in areas cut off from power or water.
"We cannot take baths, the toilet doesn't work and our food stockpile is running low," a nursery school worker said, whose home in the city of Mihara has been without water since Saturday.
"Bottled water and bottled tea are all gone from convenience stores and other shops," she said at an emergency water supply station.
Nearly 13,000 customers had no electricity, power companies said, while hundreds of thousands had no water.
The death toll reached at least 122 after floodwaters forced several million people from their homes, NHK national television said, the highest such figure since 117 people were killed in heavy rains in 1983. Among the dead was a nine-year-old boy.
Another 79 were missing, NHK added.
Though continuous rain had ended, officials warned against sudden showers and thunderstorms, as well as the risk of further landslides on steep mountainsides saturated over the weekend.
---
Why has the rainfall in Japan been so deadly?
---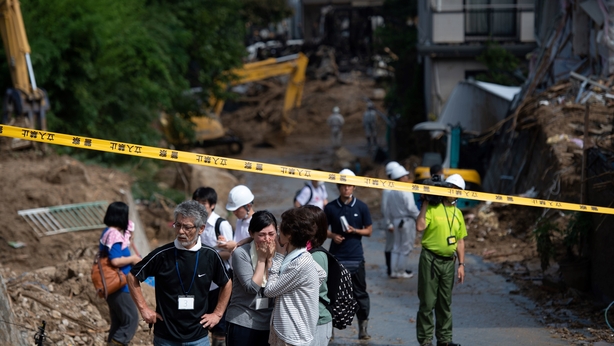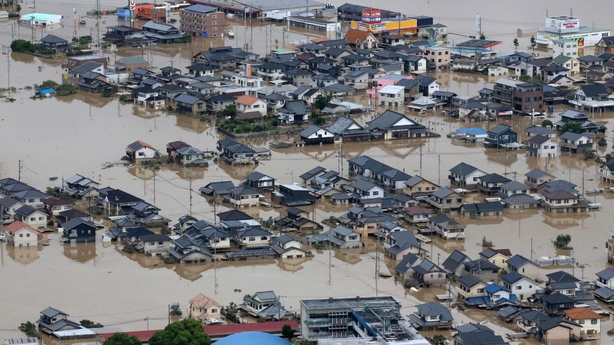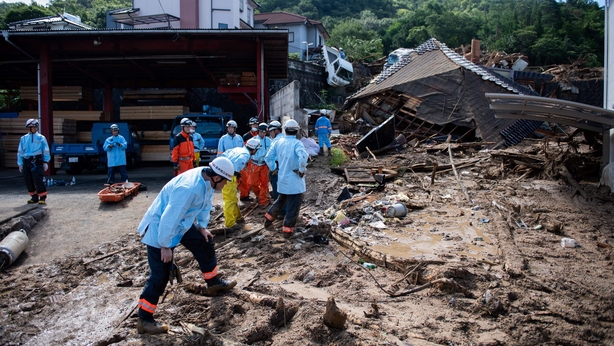 Industry operations have also been hit, with Mazda Motor Corp saying it was forced to close its head office in Hiroshima today.
The automaker, which suspended operations at several plants last week, said the halt would continue at two plants until tomorrow, as it cannot receive components, although both units were undamaged.
Refineries and oil terminals were not affected, but blockages in roads leading to one Showa Shell oil terminal in the city caused gas and diesel shortages nearby.
Elsewhere, people soldiered through the grim task of recovery.
At one landslide in Hiroshima, shattered piles of lumber marked the sites of former homes, television images showed. Others had been tossed upside down.
Water still covered much of the hard-hit city of Kurashiki, despite ebbing floods that opened the route to a hospital where nearly 100 patients and staff were stranded on Sunday.
Thousands flocked to evacuation centres in its Mabidistrict.
"Nobody has anything to wear. We need shirts, trousers, underwear, socks and even shoes," its mayor, Kaori Ito, told the Asahi Shimbun newspaper.
Although evacuation orders were scaled back from the weekend, nearly two million people still face orders or advice to keep away from homes, fire and disaster officials said.
To tackle the crisis, Prime Minister Shinzo Abe is scrapping a trip to Europe and the Middle East that had been planned to start this week, Kyodo news agency quoted a top ruling party official as saying.
Economists said it was too early to assess the overall impact, but it was likely to be limited.