Kim Jong-un has declared North Korea's unstinting "friendship, unity and co-operation" with Beijing during his third visit to China this year, in a show of loyalty to his main ally following a landmark summit with US President Donald Trump.
The two-day visit, which ends today, is designed to reassure Beijing that Pyongyang will not neglect its interests as Mr Trump and Mr Kim move into uncharted diplomatic terrain.
The performance is part of a delicate balancing act for Mr Kim, who analysts say is seeking to play US and Chinese interests off each other while maintaining good relations with Beijing, his economic patron and diplomatic protector.
China and the US both hope to see the Korean peninsula free of nuclear weapons, but Beijing is concerned Washington and Pyongyang might move closer at its expense, a possibility that China sees as threatening to its economic and security interests in the region.
While China was not present at the 12 June summit in Singapore, it lent Mr Kim a plane to travel to the city-state, a clear sign that it remains an influential force in the diplomatic shuffle.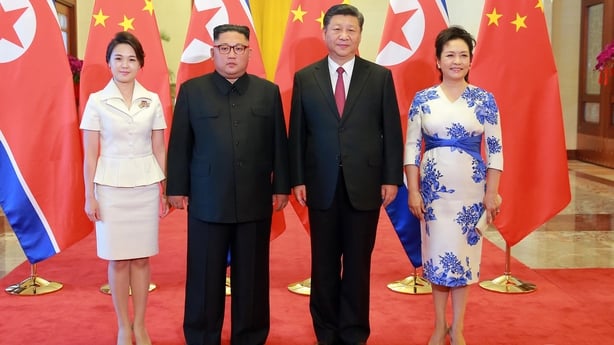 The Cold War-era allies, which fought side-by-side against US-led UN forces and South Korea in the 1950-1953 Korean War, have sought to repair ties strained by Pyongyang's nuclear tests and Beijing's support of subsequent UN sanctions.
Mr Kim chose Beijing for his first official foreign trip in March and met Mr Xi again in May in the northeastern port city of Dalian. Mr Kim's agenda today was not made public.
During his meeting with Mr Xi yesterday, Mr Kim thanked China for "positive and sincere support and good help for the successful" summit with Mr Trump, according to North Korea's official KCNA news agency.
The North Korean leader, who was greeted by a military honour guard and cheering children at the Great Hall of the People, said he valued the "recently strengthened strategic cooperation" between the two countries.
"He expressed the determination and will to further develop the closer relations of friendship, unity and cooperation between the two parties and the two peoples of the DPRK and China," KCNA said.
Mr Kim also invoked the "prospect for the denuclearisation of the Korean Peninsula" following his meeting with President Trump.
For his part, Mr Xi told his North Korean counterpart that China "speaks highly" of his summit with Mr Trump and he urged Washington and Pyongyang to implement their agreement struck in Singapore.
The Chinese leader vowed that Beijing would continue to play a "constructive role" in the nuclear diplomacy.
The official media of both countries did not say whether they discussed the prospect of easing UN sanctions that have crippled North Korea's economy, but analysts said it could have been part of the agenda.
North Korean officials have also visited China recently to learn about its economic reforms - yet another sign of Pyongyang's reliance on Beijing for its economic well-being.
"We are happy to see that the DPRK made a major decision to shift the focus to economic construction, and the development of the DPRK's socialist cause has entered a new stage in history," Mr Xi told Mr Kim, according to China's official Xinhua news agency.
China has backed United Nations sanctions against its ally but indicated last year that the UN Security Council could consider easing the punitive measures.