When Donald Trump sits down with his fellow G7 leaders in Canada, he should in theory be in the company of the United States' closest allies.
However, since taking office a little over 500 days ago, he has had a series of spats with his peers. So what are the points of friction between Trump and the other members of the exclusive club.
Italy's Giuseppe Conte, who was only confirmed as prime minister this week, will be meeting his fellow leaders for the first time.
Justin Trudeau
Canada's premier appeared to have struck up an unlikely friendship with Mr Trump at their first meeting, saying he would never dream of "lecturing" his host even if the US president's "America First" agenda is anathema to the arch liberal.
Pictures of Mr Trump's daughter Ivanka gazing intently at Trudeau seemed to underline the cosiness between the two neighbours.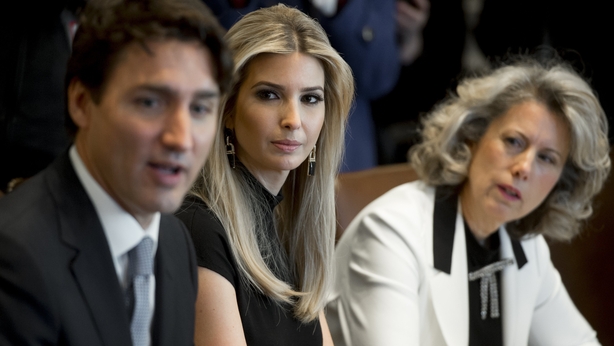 But Mr Trump's imposition of tariffs on Canadian steel and aluminium imports on national security grounds infuriated Mr Trudeau who branded them an insult to the memories of Canadian soldiers who had died alongside American brothers in arms.
And Mr Trump's reported quip in a phone call with Mr Trudeau last month about how Canadian soldiers burned down the White House in 1812 did not go down well either, not least as it was actually the work of the British.
Factfile on the G7 nations ahead of a summit in La Malbaie, Charlevoixhttps://t.co/6dtdfRexxF pic.twitter.com/gWjDqw8FUE

— AFP news agency (@AFP) June 8, 2018
Theresa May
Britain has long prided itself on its "special relationship" with its former colony and Prime Minister Theresa May was the first foreign leader to be received by Mr Trump in the White House.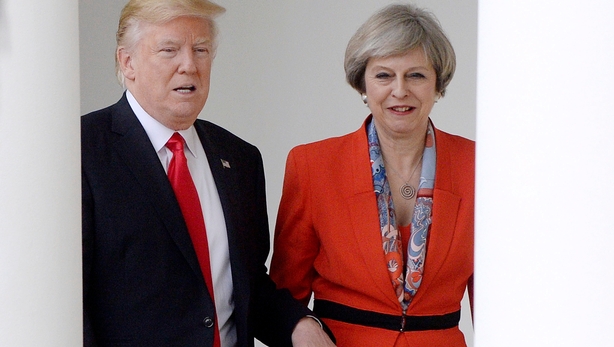 But her decision to offer Mr Trump a state visit soon backfired when opposition supporters threatened a mass mobilisation. Calls for the invitation to be rescinded grew last November after Mr Trump retweeted three inflammatory anti-Muslim videos posted by far-right group Britain First.
When Mrs May condemned Mr Trump for sharing the messages, he snapped back that she should keep her "focus on the destructive Radical Islamic Terrorism that is taking place within the United Kingdom".
The visit to Britain is now scheduled for 13 July and a man whose mother was Scottish can now expect a heated reception in London.
Angela Merkel
When Barack Obama bade farewell to the German chancellor on his last overseas visit as president, Ms Merkel's eyes are said to have welled with tears as she contemplated the change in the White House.
Mr Trump's failure to shake Ms Merkel's hand when he first hosted her in Washington last spring underlined the cooling in relations between the Western world's two most important leaders.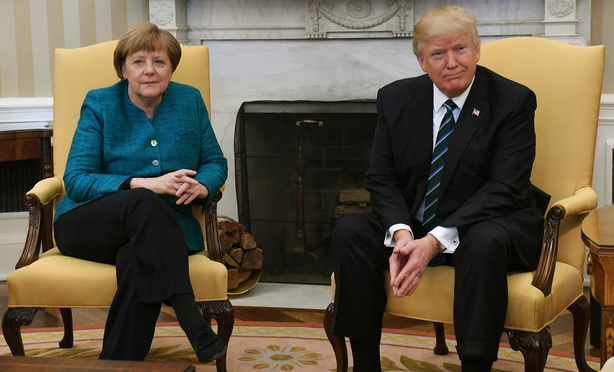 In a speech in May, the German leader warned that Europe must learn "to take its fate in its own hands" now Mr Trump was in power. Mr Trump's singling out of Germany's car sector for criticism in his gripes about the US trade deficit hardly helped matters either.
Although the pair insisted there was no bad blood between them when Ms Merkel visited Washington in late April, the workmanlike nature of the one-day visit was in stark contrast to the fuss that Mr Trump had made earlier in the week for France's leader.
Emmanuel Macron
As another outsider who upended the political order, France's president appeared to have an instinctive understanding of the Trump phenomenon that more established leaders struggled to grasp.
Indeed, their 29-second white knuckle handshake at their first meeting was an indicator that they had the measure of each other and Mr Macron even came to be dubbed the "Trump Whisperer" after his successful hosting of the US President for the Bastille Day celebrations last July.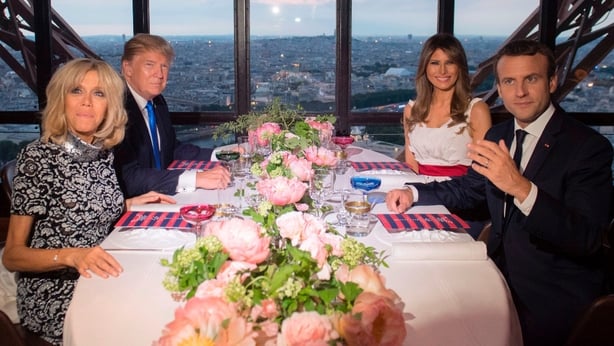 But strains emerged during Mr Macron's visit to Washington in April when Mr Trump brushed dandruff off his guest's shoulder.
A humiliated Mr Macron then delivered a speech in Congress that repudiated much of Mr Trump's agenda, restating his commitment to both the Iran nuclear deal and the Paris climate agreement that Mr Trump has turned his back on.
Shinzo Abe
Mr Trump's relationship with the Japanese premier is arguably the warmest among the G7 leaders.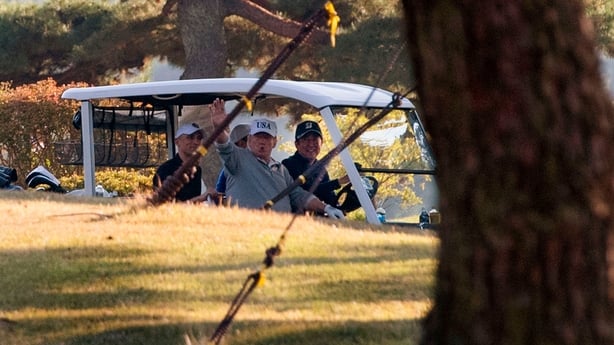 The pair have enjoyed each other's company on the golf course and issues such as the Iran nuclear deal which have soured relations with Europe have had relatively little impact on ties between Tokyo and Washington.
However, Mr Trump's regular tirades over the balance of trade between Japan and the US has unsettled Tokyo and his apparent determination to engage with North Korea's leader Kim Jong Un has also caused some alarm in Japan.