Israeli aircraft struck two militant sites in the Gaza Strip this evening, Palestinian residents said, hours after rockets were fired from the enclave at Israel.
An Israeli military spokesman had no immediate comment.
The military said earlier that Gaza militants had fired two rockets at Israel, one of them was shot down and the other fell short. There were no immediate reports of casualties in either of the incidents.
Meanwhile, thousands of Palestinians attended the funeral today of a young female volunteer medic killed by Israeli fire in violence on the border in southern Gaza.
Razan al-Najjar, 21, a volunteer with the Gaza health ministry, was fatally shot in the chest near Khan Yunis yesterday.
Ambulances and medical crews attended the funeral, with her father holding the white blood-stained medic's jacket she wore when she was shot, as mourners called for revenge.
Since 30 March, Gazans have staged border protests demanding the return of Palestinians to land they fled or were expelled from during the 1948 war surrounding Israel's creation, now inside the Jewish state.
The demonstrations have been accompanied by smaller clashes as youths hurled stones at Israeli soldiers and attempted to breach the border fence, at times laying explosive devices on the fence or throwing grenades.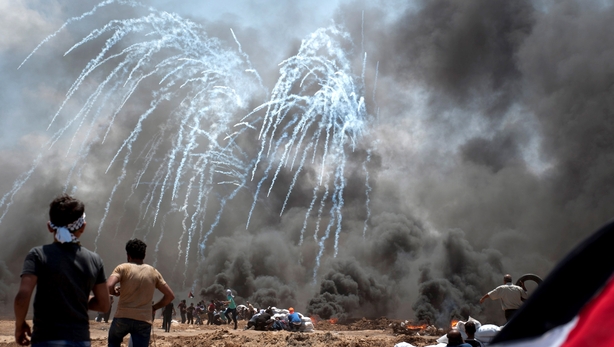 Palestinians in the besieged coastal enclave have also been using kites carrying cans on fire to set ablaze Israeli fields, torching extensive patches of agricultural land near Gaza.
Following the funeral today, several Gazans were wounded in clashes east of Khan Yunis, health ministry spokesman Ashraf al-Qudra said.
The Israeli army said "a terror cell" had infiltrated from southern Gaza. Soldiers shot at the Palestinians, who returned to the enclave.
Earlier today, the United States vetoed a Kuwaiti-drafted UN Security Council resolution that condemned Israel's use of force against Palestinian civilians, underlining Washington's differences with friends and foes alike over the Israeli-Palestinian issue.
Later, a second, US-drafted resolution that blamed Hamas for the violence and upheld Israel's right to defend itself failed to attract any other country's support when it was put to vote at the council.
We need your consent to load this rte-player contentWe use rte-player to manage extra content that can set cookies on your device and collect data about your activity. Please review their details and accept them to load the content.Manage Preferences
Blasting the council majority, US Ambassador to the United Nations Nikki Haley said the two votes showed it was willing to blame Israel and unwilling to blame Hamas, the Islamist group that dominates Gaza.
"It is now completely clear that the UN is hopelessly biased against Israel," she said in a statement.
France, Russia, China, Ivory Coast, Kazakhstan, Bolivia, Peru, Sweden, and Equatorial Guinea joined Kuwait in voting in favour of the first draft.
Britain, the Netherlands, Poland and Ethiopia abstained. Only the United States voted against.
To be adopted, a Security Council resolution needs to receive at least nine votes in favour and no vetoes by any of the permanent members - the United States, Britain, France, Russia and China.
Only the United States voted in favour of the second draft resolution, while there were three negative votes and 11 abstentions.

At least 119 Palestinians have been killed by Israeli forces in Gaza border protests since 30 March.
The largest number of killings occurred on 14 May, the day the United States moved its embassy in Israel to Jerusalem from Tel Aviv.
Amid international condemnation of its use of lethal force, Israel said many of the dead were militants and that the Israeli army was repelling attacks on the border fence between Israel and Gaza.
Washington has maintained Israel's right to defend itself and refrained from joining calls for Israeli restraint.
Palestinians and their supporters said most of the protesters were unarmed civilians and that Israel was using excessive force against them.
Over the years, the United States has vetoed a number of Security Council resolutions critical of Israel.
In December, it vetoed an Egyptian-drafted resolution calling on US President Donald Trump's administration to reverse its decision to recognise Jerusalem as Israel's capital.
Israeli troops kill Palestinian trying to ram them with car
Israeli troops have shot dead a Palestinian man who tried to ram his car into them in the occupied West Bank, the Israeli military said.
The Palestinian Health Ministry confirmed the man was killed but officials gave no further details on the incident.
"A terrorist attempted to run over IDF (Israel Defence Forces) troops located at the site with his vehicle. In response, the troops fired towards the terrorist, killing him. No IDF troops were injured," the Israeli military said.
On Tuesday, Palestinian militants fired dozens of mortar bombs and rockets into Israel from Gaza, drawing Israeli airstrikes.
Peace talks between Israel and the Palestinians collapsed in 2014 and a bid by the US administration to restart them has so far shown no sign of progress.
The Palestinians are outraged at Mr Trump's decision to move the US embassy to Jerusalem from Tel Aviv.
Palestinians want to establish an independent state in the West Bank and the Gaza Strip, with East Jerusalem as its capital.
Palestinians have limited self rule in parts of the West Bank, where President Mahmoud Abbas holds sway.
Gaza is controlled by the Islamist Hamas group, which Israel and the West designate as a terrorist organisation.
Citing security concerns, Israel keeps a naval blockade on Gaza and tight control of its land crossings.
The Israeli military controls most the territory of the West Bank, where Israeli settlements have expanded over the years.