US President Donald Trump has confirmed a summit with North Korean leader Kim Jong-un will go ahead on 12 June in Singapore.
"I think it's probably going to be a very successful, ultimately a successful process," Mr Trump told reporters on the White House lawn after meeting with a senior North Korean official in the Oval Office.
Kim Yong Chol, a close aide to the North Korean leader, was the highest level figure from the secretive state to hold talks at the White House since a senior envoy visited former President Bill Clinton in 2000.
He delivered a letter from Kim Jong Un to Mr Trump.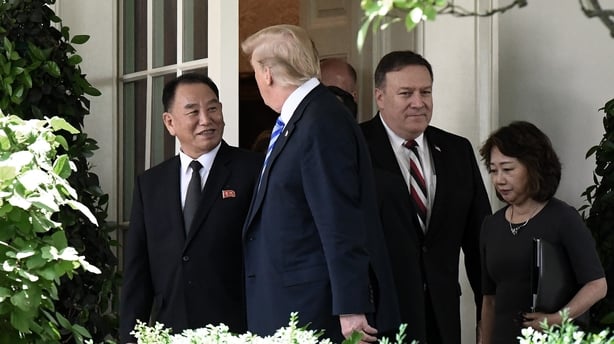 The president said he expected a number of summits would be needed to settle all outstanding issues.
"Frankly, I said, 'Take your time,'" Mr Trump said.
After exchanging threats and insults since Mr Trump became president last year, the United States and North Korea have been trying to set up the summit between their leaders. Mr Trump wants to use the meeting to pressure Pyongyang into giving up its nuclear weapons.
North Korea, whose nuclear ambitions have been a source of tension for decades, has made advances in missile technology in recent years but Mr Trump has sworn not to allow it to develop nuclear missiles that could hit the United States.
He wants North Korea to "denuclearise," in return for relief from economic sanctions but the leadership in Pyongyang is believed to regard nuclear weapons as crucial to its survival and has rejected unilaterally disarming.
"I look forward to the day when I can take the sanctions off of North Korea," Mr Trump said.
He canceled the summit late last month, citing North Korea's "tremendous anger and open hostility."
We need your consent to load this rte-player contentWe use rte-player to manage extra content that can set cookies on your device and collect data about your activity. Please review their details and accept them to load the content.Manage Preferences