Prosecutors investigating the downing of flight MH17 over eastern Ukraine in 2014 said they had identified the missile used to shoot down the plane as coming from Russia's armed forces.
Wilbert Paulissen, head of the crime squad of the Netherlands' national police, said the missile was fired from Russia's 53rd Anti-Aircraft Brigade.
"All the vehicles in a convoy carrying the missile were part of the Russian armed forces", he told a televised news conference.
Moscow has repeatedly denied any involvement in the downing of the Boeing flight 777, putting the blame instead on Kiev.
We need your consent to load this rte-player contentWe use rte-player to manage extra content that can set cookies on your device and collect data about your activity. Please review their details and accept them to load the content.Manage Preferences
The Malaysian Airlines flight was blown out of the sky over east Ukraine on 17 July 2014, en route from Amsterdam to Kuala Lumpur.
All 298 passengers and crew, most of them Dutch, were killed in the disaster.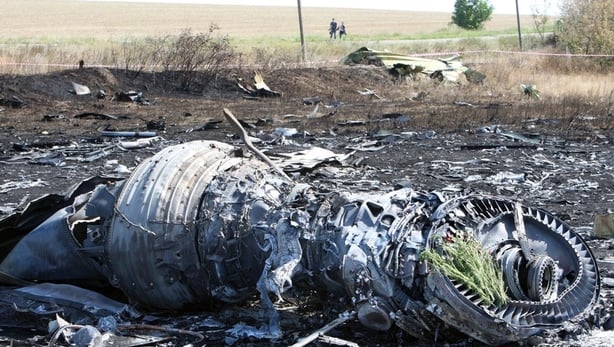 But there were 17 nationalities on board including Australians, Britons, Malaysians and Indonesians.
The investigators had previously concluded that the plane was brought down by a Russian-made BUK missile system brought in from Russia and fired from territory in Ukraine held by Moscow-backed rebels. But they have stopped short of directly saying who pulled the trigger.
Now the team has painstaking recreated the route taken by the missile convoy from Kursk across the border into Ukraine using videos and photos.
Mr Paulissen added the team had "ascertained that the BUK-TELAR has a number of unique characteristics. These characteristics as such served as a type of fingerprint for the missile."
The probe being led by The Netherlands is focusing on some 100 people suspected of having played an "active role" in the incident, but investigators have not yet publicly named any suspects.
Chief investigator Fred Westerbeke said the probe was now in its "last phase" but added there was "still work to be done".
Over the past years "we've gained a lot of proof and evidence but we are not ready yet" to move towards bringing charges, he told the press conference.
Dutch officials have announced that the trial of any suspects arrested in the shooting down of flight MH17 will be held in the Netherlands under an agreement reached with the countries leading the joint probe.