Russian President Vladimir Putin has chosen to stick with his long-serving prime minister in his first act after being sworn in for a new term, signalling that he would keep faith with a policy direction that has brought Russia into conflict with the West.
Standing in the ornately-decorated Andreyevsky Hall of the Grand Kremlin Palace, with his hand on a gold-embossed copy of the constitution, Mr Putin swore to serve the Russian people, to safeguard rights and freedoms, and protect Russian sovereignty.
Mr Putin won the new six-year term after more than 70% of voters backed him in a 18 March presidential election.
His most dangerous challenger, Alexei Navalny, was not allowed to take part.
Mr Navalny was detained on Saturday at a protest called under the slogan: "Putin is not our tsar."
Soon after the inauguration ceremony, the Kremlin issued a statement saying that Mr Putin had nominated Dmitry Medvedev to be prime minister in his new term.

Mr Medvedev, a loyal Putin lieutenant, has held the job since 2012.
The appointment needs to be approved by the lower house of parliament, but that is likely to be a formality because the chamber is dominated by Kremlin loyalists.
Some Kremlin-watchers had speculated Mr Putin might bring in a fresh face as prime minister to kick-start reforms of the sluggish economy and revive foreign investment curtailed by stand-offs with the West.
By choosing Mr Medvedev - seen by people close to the Russian elite as a safe pair of hands whose chief quality is loyalty to his boss - Mr Putin indicated he favoured continuity.
The choice is also likely to be parsed by Kremlin-watchers for any clues about what happens after Mr Putin's current term ends in 2024.
The constitution bars him from seeking a third consecutive term.
When Mr Putin came up against the same term limits in 2008, he got around the problem by anointing Medvedev as president, before taking back the job after one term.
Some observers believe Mr Putin, who has not anointed any heir apparent, could attempt the same manoeuvre a second time.
He embarks on his new term, his fourth in total, buoyed by widespread popular support but also weighed down by the costly confrontation with the West, low economic growth, and uncertainty about what happens when his terms ends.
In a speech after the swearing-in ceremony, Mr Putin said that in the next six years Russia would prove a strong, muscular player on the world stage, backed by a powerful military, while pushing hard to improve life for its citizens at home.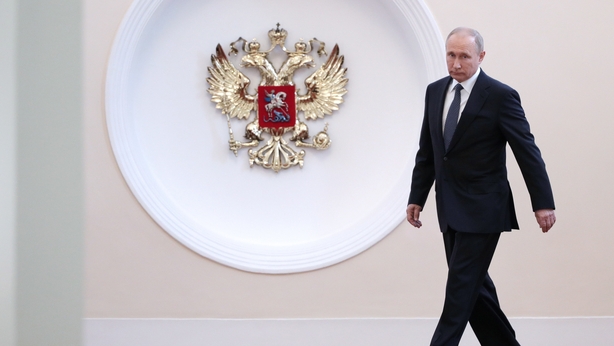 "Taking up this post, I feel a colossal sense of responsibility," he told his audience of Russian officials and foreign dignitaries, among them former German chancellor Gerhard Schroeder.
For the short journey from his office to the inauguration ceremony, he travelled in a new Russian-made limousine.
From now on, the limousine will replace the fleet of imported vehicles Mr Putin uses, state television reported.
The choice of transport chimes with a message, often repeated by the Russian President, that Russia is ready to stand on its own feet and shake off its dependence on the West.
Foreign diplomats see little prospect that Russia's standoffs with the West that have dominated the past four years will ease during the new term.
Clashes in the past few weeks over US sanctions on Russia, the conflict in Syria, and the poisoning in England of former Russian spy Sergei Skripal have left some diplomats worried that the confrontation could spiral out of control.
Opinion polls show Putin has high levels of support among Russian citizens, and Mr Navalny has not been able to inspire a nationwide upsurge of protests.
But the Russian economy is a potential weakness for Mr Putin.
Buffeted by lower oil prices, falls in the rouble, inflation and the impact of sanctions, average monthly wages have fallen from the equivalent of $867 in 2013 to $553 last year.
Russia's economy, the world's eleventh largest, returned to growth of 1.5% last year, helped by a recovery in oil prices.
But that fell far short of the growth Russians grew accustomed to earlier in Putin's rule.
Mr Putin, first elected president in 2000, will soon have ruled longer than Soviet Communist leader Leonid Brezhnev, whose 18-year rule from 1964 to 1982 is primarily associated with stagnation.
By the time his term ends, Putin will be 71.
Foreign diplomats and analysts say uncertainty over what happens after 2024 is likely to destabilise the ruling elite and spark infighting among rival Kremlin clans.