Russian UN Ambassador Vassily Nebenzia has said Moscow has warned the United States of "grave repercussions" if it carries out an attack against Syrian government forces over reports of a deadly chemical weapons attack.
"There was no chemical weapons attack," Mr Nebenzia told the UN Security Council.
"Through the relevant channels we already conveyed to the US that armed force under mendacious pretext against Syria where, at the request of the legitimate government of a country, Russian troops have been deployed - could lead to grave repercussions," he said.
US Ambassador to the United Nations Nikki Haley told the council that Washington "will respond" to the attack on a rebel-held town in Syria regardless of whether the United Nations Security Council acts or not.
"We have reached the moment when the world must see justice done," she told the council.
"History will record this as the moment when the Security Council either discharged its duty or demonstrated its utter and complete failure to protect the people of Syria," she said, adding: "Either way, the United States will respond."
British UN Ambassador Karen Pierce told reporters ahead of the meeting that Britain "would prefer to start with a proper investigation," but all options were on the table and London was in close contact with its allies, the United States and France.
Mr Nebenzia also said that investigators with the global chemical weapons watchdog should fly to Syria as early as tomorrow to look into accusations about the attack, offering them protection from Syrian authorities and Russian troops.
"The Syrian authorities and Russian troops will provide conditions to travel to the areas of the alleged incident for them to familiarise themselves with the situation," he said.
The Organisation for the Prohibition of Chemical Weapons (OPCW) said it had opened an investigation to determine what exactly had happened in Douma.
It comes as US President Donald Trump promised quick action in response to a "barbaric" suspected chemical weapons attack in Syria and made clear that all options including military action were on the table.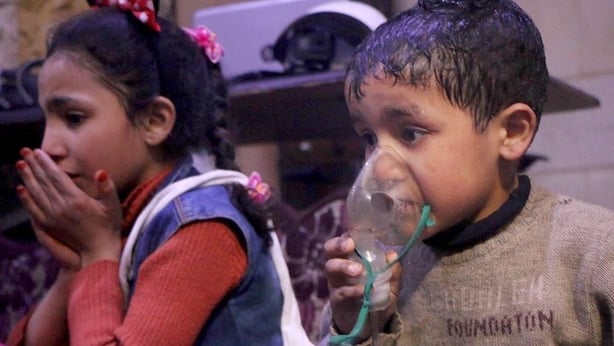 Speaking at a cabinet meeting at the White House, Mr Trump said he was meeting with military and other advisers and a decision would be made within 48 hours.
"Nothing is off the table," he said when asked if US military action was a possibility.
The suspected chemical weapons attack late Saturday night killed at least 60 people and more than 1,000 injured in several sites in Douma.
But two days on, the White House was still only able to say that the attack fits the pattern of Syrian President Bashar al-Assad's chemical weapon use.
Initial US assessments have so far been unable to determine conclusively what materials were used in the attack and could not say with 100% certainty that President Assad's government forces were behind it.
"It was an atrocious attack," Mr Trump said.
"This is about humanity. We're talking about humanity. It can't be allowed to happen."
Donald Trump promises 'major decision' in response to Syria chemical attack | https://t.co/yPlKRBorIv pic.twitter.com/47leMryby4

— RTÉ News (@rtenews) April 9, 2018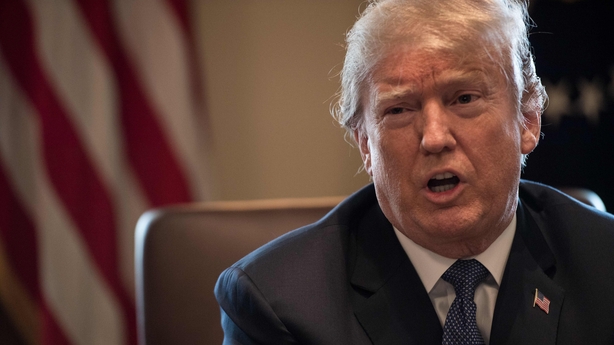 Asked if Russian President Vladimir Putin bore any responsibility for the attack, Mr Trump said: "He may, yeah, he may. And if he does its going to be very tough, very tough."
The Syrian government and its ally Russia have denied involvement in the attack.
International bodies led by the OPCW were trying to establish exactly what happened in Douma, a rebel-held town in the Eastern Ghouta district.
The Russian military said its medics had examined patients in a hospital in Douma and had found no traces of a chemical attack, Interfax news agency reported.
One video shared by activists showed bodies of about a dozen children, women and men, some with foam at the mouth.
Reuters could not independently verify the reports.
The OPCW, based in The Hague, said people were possibly gassed to death by a poisonous cocktail of sarin and chlorine.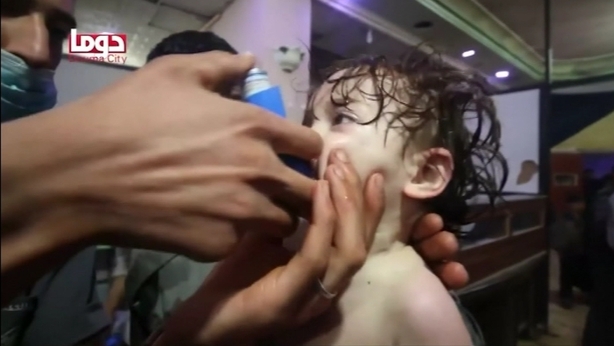 Mr Trump said he was talking to military leaders and would decide who was responsible for the "barbaric act" - whether it was Russia, Assad's government, Iran, or all of them together.
Yesterday, the US President criticised Mr Putin by name on Twitter as he castigated Russia and Iran for backing "Animal Assad."
Mr Trump also said after initial reports of an attack that there would be a "big price to pay".
The stakes are higher for any new US military action, with Mr Trump explicitly mentioning Iran and Russia in connection to the weekend attack.
US intelligence has been unable so far to determine what was used in the attack.
War planes strike Syrian air base
The Syria conflict was further complicated when unidentified war planes struck a Syrian air base near Homs, killing at least 14 people, including Iranian personnel.
Syria and Russia accused Israel of carrying out the attack.
Israel, which has struck Syrian army locations many times in the course of its neighbour's seven-year-old civil war, has neither confirmed nor denied mounting the raid.
But Israeli officials said the Tiyas, or T-4, air base was being used by troops from Iran and that Israel would not accept such a presence in Syria by its arch foe.
Israeli Prime Minister Benjamin Netanyahu did not mention Syria during a visit to the border with Gaza, scene of deadly clashes between Palestinians and Israeli troops in recent weeks. But he did say: "We have one clear and simple rule and we seek to express it constantly: If someone tries to attack you rise up and attack him."
The incidents in Douma and Tiyas demonstrated the complex and volatile nature of the Syria war, which involves a number of countries and a myriad of insurgent groups.
Assad now has the upper hand in the conflict but any international action could delay his efforts to bring it to a close.
Britain has said it was working with its allies to agree a joint response to the attack. France said it would work closely with the United States on a response.
Both countries agreed responsibility for the strike must be established, and Turkey also called for an investigation.
French President Emmanuel Macron has issued repeated warnings previously that France would strike if proof of lethal chemical attacks were established.
But Paris stopped short of apportioning blame on Mr Assad's forces for Saturday's attack.
The UN Security Council opened an emergency session into the attack.
The US, France, Britain and six other countries requested the urgent meeting.
Russian Foreign Minister Sergei Lavrov said such allegations against Russia were false and a provocation. Mr Lavrov also said the strike on theT-4 base was a dangerous development.