Former Russian double agent Sergei Skripal is no longer in critical condition following a nerve agent attack in Salisbury, England, last month.
In a statement, Salisbury Hospital said that he responded well to treatment.
"He is responding well to treatment, improving rapidly and is no longer in a critical condition," Christine Blanshard, Medical Director at Salisbury District Hospital, said in a statement.
Mr Skripal, 66, and his daughter Yulia were found unconscious on a public bench in Salisbury on 4 March.
Ms Blanshard said she was providing the update in response to "intense media coverage yesterday".
In a statement yesterday, British police said that Ms Skripal was recovering.
We need your consent to load this rte-player contentWe use rte-player to manage extra content that can set cookies on your device and collect data about your activity. Please review their details and accept them to load the content.Manage Preferences
She was quoted as saying: "I woke up over a week ago now and am glad to say my strength is growing daily."
Results of forensic tests on samples taken in Salisbury will be received by the Organisation for the Prohibition of Chemical Weapons next week.
The poisoning of the Skripals' led to angry exchanges at the UN Security Council last night.
Russia's ambassador accused Britain of fabricating intelligence to claim Russia was responsible for the attack.
Britain's envoy, supported by the US and other European allies on the council, accused Russia of playing fast and loose with international security.
Russia has vehemently denied being involved in the nerve agent attack and has reacted to the expulsion of Russian diplomats from Britain and its allies, including Ireland, with equal measures.
This afternoon it emerged that the UK authorities refused to grant Viktoria Skripal - cousin of Yulia - a visa to visit Britain.
A Home Office spokesman said: "We have refused a visitor visa application from Viktoria Skripal on the grounds that her application did not comply with the Immigration Rules."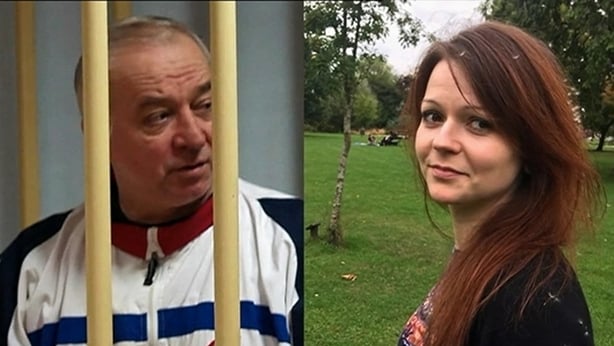 Meanwhile, a cat and two guinea pigs owned by the former double agent are dead, the British government confirmed after questions were raised by Russia.
"When a vet was able to access the property, two guinea pigs had sadly died," said a spokeswoman for Britain's Department for Environment, Food and Rural Affairs.
"A cat was also found in a distressed state and a decision was taken by a veterinary surgeon to euthanise the animal to alleviate its suffering. This decision was taken in the best interests of the animal and its welfare," she added.
British counter-terror police have said the Skripals first came into contact with a nerve agent at the house, with the highest concentration found on the front door.
Global attention since the attack has focused on the political fallout after Britain blamed Russia for the attack and the condition of the human victims.
It was not until this week that Russia raised concerns over the welfare of the pets.
"Where are the animals, what state are they in? Why has the British side ... not mentioned this fact? We are talking about living organisms, and if toxic agents were used then living organisms must have suffered," foreign ministry spokeswoman Maria Zakharova said on Wednesday.
Russia's embassy to London earlier referred to a second missing cat, which was not mentioned by the British government.
At the UN last night, Russia warned Britain is "playing with fire and will be sorry" over the incident.
The two countries referenced British dramas and the Nazis as they traded jibes at the UN, with the UK arguing that doubt should not be cast on the likelihood of Russian responsibility for the Novichok nerve agent attack and that British actions "stand up to any scrutiny".
But Russian UN Ambassador Vasily Nebenzya pointed to Midsomer Murders and read from Alice's Adventures In Wonderland to mock suggestions of Russian involvement.
He claimed the UK's main argument about the "unquestionable Russian origin" of the Novichok is "no longer valid" following comments from the head of Britain's military research base.
Mr Nebenzya later accused the West of "using the method of Dr Goebbels - lies that are repeated a thousand times become the truth" by trying to manipulate people via the media.