Residents of a devastated pocket of Syria's Eastern Ghouta were preparing for a new round of evacuations from the rebel enclave near Damascus.
Hundreds of rebels, their relatives and other civilians left a string of towns late yesterday after Faylaq al-Rahman, the rebel faction that controls the area around Arbin, agreed to a negotiated withdrawal.
The deal is expected to see around 7,000 people bussed from Arbin and Zamalka towns and the district of Jobar to a rebel-dominated part of northern Syria.
Arbin residents were this morning packing whatever they could in anticipation of a new round of evacuations.
Since 18 February, the Syrian government has waged a fierce air and ground assault on Eastern Ghouta, capturing more than 90% of the onetime rebel bastion.
At least 1,600 civilians have been killed, according to the Syrian Observatory for Human Rights.
Syrian state media says at least 107,000 civilians have fled.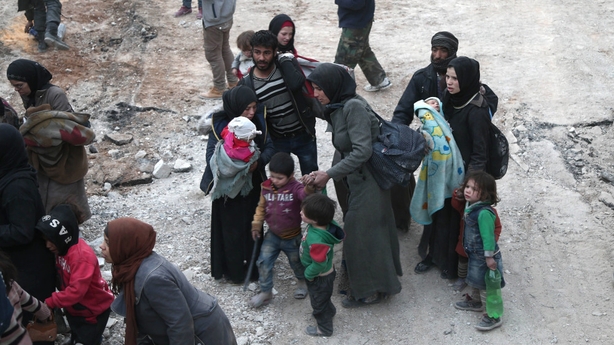 Damascus is now using settlements negotiated by Russia to clear the last three rebel-held pockets of Ghouta.
A first deal saw the withdrawal of hardline Islamist rebels Ahrar al-Sham from the town of Harasta last week.
The second agreement, with Faylaq al-Rahman, was announced on Friday and evacuations began the following evening.
Talks are also under way for a deal over the third and final rebel-held pocket of Ghouta, which is held by Jaish al-Islam and includes the largest town in the area, Douma.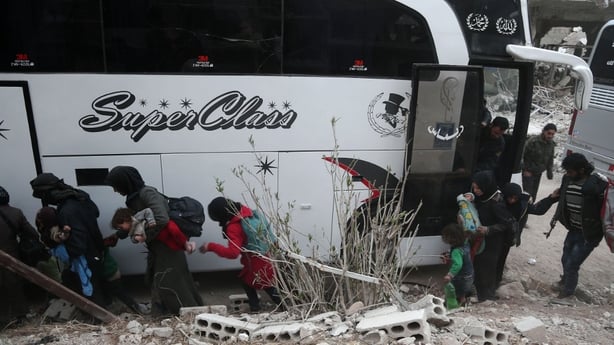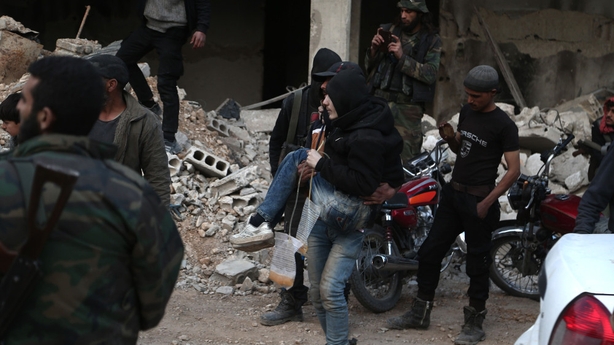 Residents and rights groups have accused the Syrian government of using weapons that kill indiscriminately - inaccurate barrel bombs dropped from helicopters, chlorine gas and incendiary material that sets raging fires.

Syrian President Bashar al-Assad and his close ally Russia,which has helped his air campaign, have denied using all those weapons and say their offensive was needed to end the rule of Islamist militants over civilians.
Russia's military said more than 105,000 people had left Eastern Ghouta, including over 700 yesterday.

Tens of thousands have fled their homes in the past week as the bombardment of Douma intensified and refugees from other parts of Ghouta found the basement bomb shelters too full to take them.