French President Emmanuel Macron has confirmed three people were killed and 16 others were injured following this morning's attacks in southern France.
Redouane Lakdim stormed a supermarket in the town of Trèbes and fired on shoppers and staff before taking them hostage.
He shot dead two people at the supermarket after earlier opening fire on passengers in a car, killing one of them, and injuring a police officer in nearby Carcassonne.
"They managed to get some of the people out," said French Interior Minister Gerard Collomb.
However, the attacker kept one woman back as a human shield.
Policeman Arnaud Beltrame then offered to take her place and remained holed up with the attacker while negotiations to end the standoff continued.
The GIGN elite police force intervened when they heard shots, Mr Collomb said. The assailant was killed.
Speaking this afternoon, Mr Macron branded the attack as "Islamist terrorism".
The French president said that security services were studying a claim of responsibility by the so-called Islamic State.
Mr Macron said the police officer who swapped himself for the hostage is fighting for his life in hospital.
"I want to tell the nation tonight of my absolute determination in leading this fight," Mr Macron said.
"I urge our fellow French citizens to remain aware of the terrorist threat, but to also be aware of the force and resistance our people demonstrated each and every time it was attacked."
Lakdim was a 26-year-old known for petty crimes and possession of drugs, according to Mr Collomb. He said that Lakdim, who was from nearby Carcassonne where the attacks started, had acted alone.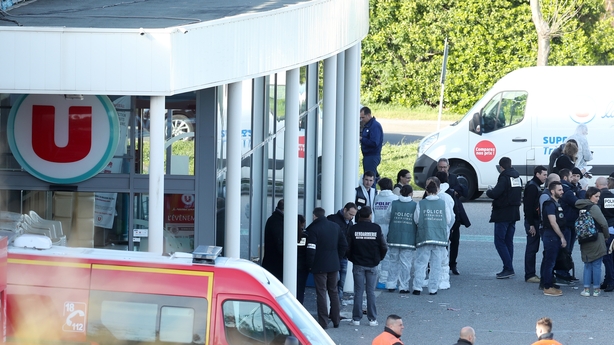 Lakdim was not thought to have been radicalised, Mr Collomb said.
One of the three people killed was a Portuguese citizen, according to a spokesman in Lisbon.
"The death of a Portuguese citizen has been confirmed... by French authorities to our consular services," the spokesman said, without giving further details.
Le Parisien newspaper said Lakdim was of Moroccan descent and was known to French intelligence services.
He was active on social network sites associated with Salafist (an ultra-conservative movement within Sunni Islam).
He was also thought to have travelled to Syria, the newspaper said, adding that the family flat, where he would have been living with his parents and three or four sisters, was raided by police this afternoon.
"This is a small, quiet, town. Unfortunately the threat is everywhere," Mr Collomb told reporters.
The hostage-taker had asked for the release of Paris November 2015 attacker Salah Abdeslam, BFM TV said, citing an anonymous source.
Abdeslam is the prime surviving suspect in the attacks in Paris that killed 130 people.