Britain's Foreign Secretary Boris Johnson has likened Russia hosting the World Cup this summer to the 1936 Berlin Olympics, which were used as a propaganda exercise by Hitler's Nazi regime.
He was responding to Labour MP Ian Austin, who said the England team should not travel to the World Cup.
Mr Austin said: "Putin is going to use it in the way Hitler used the 1936 Olympics."
The Labour MP added: "I frankly do not think England should be participating in the World Cup. I don't think we should be supporting Putin using this as a PR exercise to gloss over the gross human rights abuses for which he's responsible."
He also questioned how England fans could be safe, particularly given the expulsion of British diplomats.
Mr Johnson replied: "I think that your characterisation of what is going to happen in Moscow, the World Cup, in all the venues - yes, I think the comparison with 1936 is certainly right. I think it's an emetic prospect, frankly, to think of Putin glorying in this sporting event."
A spokeswoman for Russia's foreign ministry has said the comparison is unacceptable.
In a post on her Facebook page, Maria Zakharova said: "Such parallels ... are unacceptable and are beneath the head of a diplomatic body of a European state."
Mr Johnson also said the trail of evidence on the poisoning of Sergei and Yulia Skripal in Salisbury earlier this month led "inexorably" to the regime of Russian President Vladimir Putin.
He said: "As we saw in the case of the murder of Alexander Litvinenko, the trail of responsibility for such assassinations and assassination attempts does lead inexorably back to the Kremlin."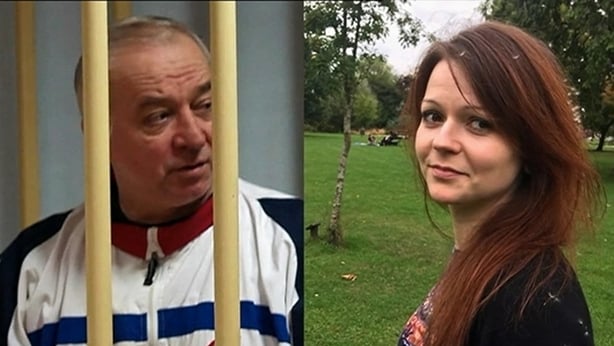 Appearing at a House of Commons committee, Mr Johnson was asked if it was possible that the attack might have been conducted by someone who was "empowered" by Mr Putin but no longer directly under his command.
He replied: "I think it is our view that when it comes to the use of a Novichok-type nerve agent in Salisbury to attempt to assassinate somebody who had been identified by the Russian state as a target for liquidation ... no matter how exactly it came to be done, the pathway, the chain of responsibility, seems to me to go back to the Russian state and those at the top."
Asked what Mr Putin's motive for attacking Mr Skripal might be, Mr Johnson said: "I think first of all it was a sign that President Putin, or the Russian state, wanted to give to potential defectors in their own agencies that this is what happens to you if you decide that you support a country with a different set of values - such as our own. You can expect to be assassinated.
"The reason why they picked the UK is very simple. It is because this is a country that does have that particular set of values, that does believe in freedom and democracy and the rule of law and has time and again called out Russia over its abuses of these values."
Mr Johnson suggested the timing of the nerve agent attack was probably linked to Mr Putin's re-election campaign.
The Foreign Secretary told MPs there had been speculation there might have been "some reaction in Moscow, in the Kremlin to the very considerable loss of Russian life" among the Wagner group of mercenaries in Syria.
"But I think the timing is probably more closely connected with the recent election in Russia," he said.
"As many non-democratic figures do when facing an election or some critical political moment, it is often attractive to conjure up in the public imagination the notion of an enemy.
"That is what I think it was an attempt to excite amongst the Russian electorate."
He said it was becoming "clearer and clearer how reckless" the would-be assassins were "in their contempt for human life.
Mr Johnson also rejected a suggestion from Labour committee member Chris Bryant that the UK had failed to respond adequately to the Litvinenko murder in 2006 because of a fear that the loss of Russian money would pose an "existential threat" to the City of London.
"I don't believe that for a minute," he said.
---
Read more
What's next for Putin and Russia?
---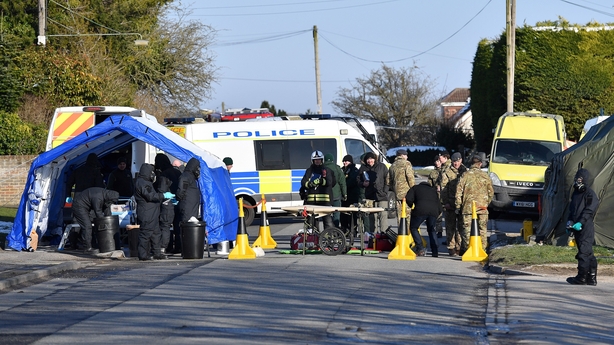 Chemical inspectors begin work in Salisbury
Inspectors from the Organisation for the Prohibition of Chemical Weapons have begun work at the scene of the nerve agent attack on former Russian agent Sergei Skripal in the English city of Salisbury.
The inspectors were seen arriving at the Mill pub in Salisbury where the pair had a drink on 4 March.
They were later found unconscious on a bench outside The Maltings shopping centre. They remain critically ill in hospital.
Earlier this morning, a Russian Foreign Ministry official said Britain may be behind the chemical attack. 
"Logic suggests that there are only two possible things," Vladimir Yermakov, head of the ministry's non-proliferation and arms control department, told a meeting with foreign ambassadors based in Moscow.
"Either the British authorities are not able to provide protection from such a, let's say, terrorist attack on their soil, or they, whether directly or indirectly, I am not accusing anyone, have orchestrated an attack on a Russian citizen", he said.