A woman caught in Spain with the body of her eight-year-old stepson in her car boot has admitted that she killed him, police said.
Ana Julia Quezada, a Dominican woman who was in a relationship with Gabriel Cruz's father, "admitted being the perpetrator", a police spokesman said, without elaborating.
Gabriel's disappearance on 27 February in the small southeastern village of Las Hortichuelas sparked an intensive search involving hundreds of volunteers.
His parents, Patricia Ramirez and Angel Cruz, who are separated, gave a number of emotional interviews since he went missing after leaving his grandmother's house to go out to play.
As his father's partner, Quezada had been a fixture in the search for Gabriel, wearing a T-shirt emblazoned with the young boy's smiling face and speaking to reporters in tears.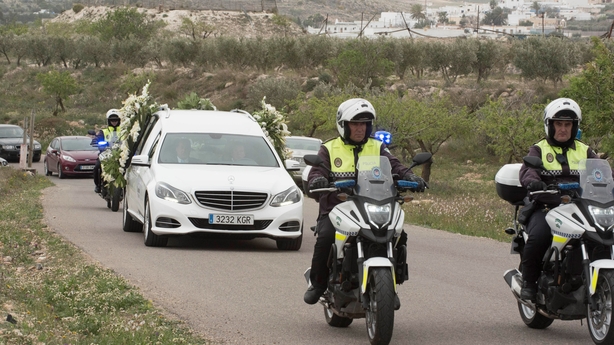 On Sunday, Spain's Interior Minister Juan Ignacio Zoido announced that police had found Gabriel's body in her car.
Today, Gabriel's funeral at the cathedral in Almeria near Las Hortichuelas drew a huge crowd, with people shouting "we are all Gabriel".
Speaking to the media, Mr Cruz gave thanks for all the support received during the days of uncertainty.
"You gave us strength to search for Gabriel," he said.
News of Gabriel's murder and Quezada's arrest sparked an outpouring of hatred towards her in Spain, despite calls for calm by his parents.
Amateur footage broadcast Monday showed 43-year-old Quezada mobbed when she left a building accompanied by police, who had to wrestle with people to push them away.
News also emerged that a girl presented as Quezada's daughter by Spanish media died in 1996 in the northern city of Burgos after falling out of the window of their home.
Asked about this, Mr Zoido confirmed yesterday that an incident had taken place, saying police had investigated the tragedy at the time but the case was dismissed.