Federal investigators examining a fatal helicopter crash in New York City's East River have not yet spoken to the pilot who warned of engine failure before the chartered aircraft crashed into the icy water, killing all five passengers.
National Transportation Safety Board officials said they are looking into why the floatation devices installed on the helicopter did not stop it from sinking.
They will also assess whether the harnesses used to secure passengers on the sightseeing photography tour contributed to their deaths.
However, NTSB officials were unable to confirm news reports, citing unnamed law enforcement sources, that the pilot said a passenger's bag may have accidentally activated the helicopter's emergency fuel shutoff switch.
Commercial helicopters typically have the switch in case the engine catches fire.
"Shortly before the crash, the pilot radioed ATC, air traffic control, declaring an emergency due to engine failure," said Bella Dinh-Zarr, the NTSB board member leading the inquiry.
"We have not yet spoken with him yet. We hope to be able to," Ms Dinh-Zarr said.
The Eurocopter AS350 chartered by Liberty Helicopters of New Jersey was pulled from the water last night.
The New York Police Department identified the pilot as 33-year-old Richard Vance.
At least two of the passengers were dead when rescue divers got to the scene, officials said.
The other three, who had to be cut from their safety harnesses, were declared dead at the hospital.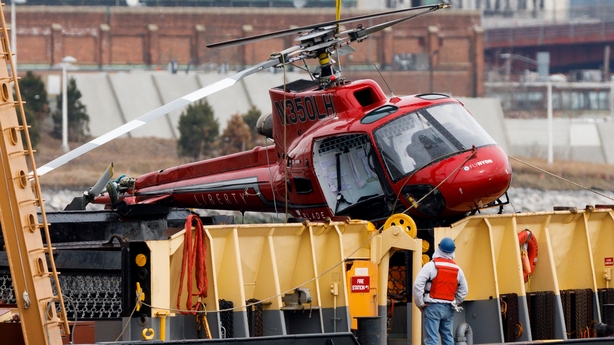 Mr Vance freed himself from the wreckage and was later discharged from hospital.
Police identified the dead as Brian McDaniel, 26; Trevor Cadigan, also 26; Carla Vallejos Blanco, 29; Daniel Thompson, 34; and Tristian Hill, 29.
Mr McDaniel and Mr Cadigan were tourists from Texas and Ms Vallejos Blanco was from Argentina. The other two men were employees of the helicopter company.
Mr Cadigan shared a video on his Instagram social media account of what appeared to be himself and others smiling and laughing as they took off in the helicopter on Sunday evening.
Mr McDaniel was a firefighter and Mr Cadigan a video journalist, the New York Daily News reported, citing unnamed police officials.
Video of Sunday's crash appeared to show the helicopter's rotors spinning solely on momentum instead of engine power as it crashed.
The Federal Aviation Administration said it had no record of any accidents or incidents involving the helicopter that crashed or Mr Vance.
Liberty Helicopters said in a statement it was "focused on supporting the families affected by this tragic accident," adding that it was cooperating with investigators.
The company has been involved in at least two other crashes, according to local news accounts.
They included a midair collision with a small plane in August 2009 over the Hudson River that killed nine people.
In July 2007, a helicopter went down in the Hudson with a pilot and seven passengers aboard. All of them survived.