China's parliament voted today to abolish presidential term limits, clearing the path for President Xi Jinping to rule for life.
The move confirms his status as the country's most powerful leader since Mao Zedong died more than 40 years ago.
The almost 3,000 delegates to the country's rubber-stamp legislature passed the measure as part of a package of changes to the country's constitution, with 2,958 voting for, two against and three abstaining.
China's ruling Communist Party proposed the amendment last month and there was never any doubt it would pass as parliament is packed with loyal party members who would not have opposed the proposal.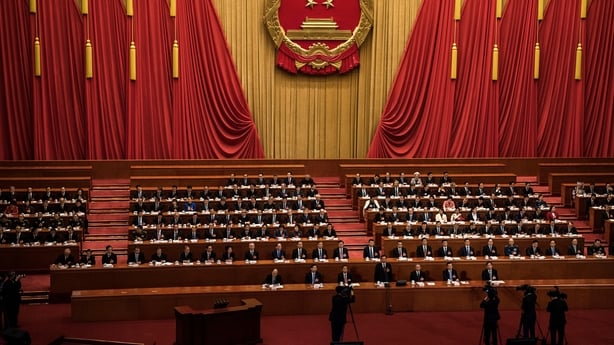 The amendments also include inserting Mr Xi's political theory into the constitution, something that was already added to the party charter in October at the end of a party congress, a feat no other leader since Mao had managed while in office. Additionally, clauses were included to give a legal framework to a new super anti-corruption department.
In the run up to the vote, critics on social media attacked the move and drew parallels to North Korea or suggested a Mao Zedong-type cult of personality was forming.
But the government quickly mounted a propaganda push, blocking some articles and publishing pieces praising the party.
The party loyalists who attended the annual session of parliament have said the decision is popular with ordinary Chinese people and asserted that China was lucky to have a leader of President Xi's calibre.
We need your consent to load this rte-player contentWe use rte-player to manage extra content that can set cookies on your device and collect data about your activity. Please review their details and accept them to load the content.Manage Preferences
Mr Xi, 64, began his second five-year term as party chief in October and at the end of the week will be formally appointed by parliament.
The limit of two five-year presidential terms was written into China's constitution after Mao's death in 1976 by Deng Xiaoping, who recognised the dangers of one-man rule and the cult of personality and instead espoused collective leadership.
Speaking later to reporters, Shen Chunyao, chairman of the Legislative Affairs Commission of parliament's standing committee, dismissed concerns the move could risk a return to strongman rule or lead to political turmoil or infighting.
"As for the assumptions, conjecture and stretched situations in your question, I think that does not exist," Mr Shen said.