Russian President Vladimir Putin has ordered a daily "humanitarian pause" to air strikes on the rebel-held Syrian enclave of Eastern Ghouta from Tuesday.
According to a statement sent to AFP, Moscow's defence ministry said: "On the instructions of the Russian president, with the goal of avoiding civilian casualties in Eastern Ghouta, from February 27 - tomorrow - from 9.00 to 14.00 there will be a humanitarian pause."
It comes after UN Secretary General, Antonio Guterres, demanded that a Security Council resolution for a 30-day ceasefire be "immediately implemented and sustained".
The bombardment of Eastern Ghouta over the past week has been one of the heaviest of Syria's seven-year war, killing at least 556 people in eight days, according to a toll compiled by the Britain-based Syrian Observatory for Human Rights.
The UN Security Council, including Russia, approved the resolution demanding a 30-day truce on Saturday.
Russia's defence minister, Sergei Shoigu, said there should be similar pauses in the southern Al-Tanf border region and Rukban, near the Jordanian border, "so that civilians can return to their homes unhindered and begin to rebuild their civilian lives".
Russia, which backs the Syrian government in the war, has denied air strikes on the enclave have killed civilians and insisted groups attacked by regime and allied forces are associated with terrorists.
Mr Guterres hailed the adoption of the resolution during the weekend after days of drawn-out debate.
However, he said: "Security Council resolutions are only meaningful if they are effectively implemented.
"That is why I expect the resolution to be immediately implemented and sustained."
He said UN aid agencies were ready to deliver life-saving aid and evacuate critically wounded from area, where 400,000 people have been living under siege.
"Eastern Ghouta cannot wait, it is high time to stop this hell on earth," he added.
UN human rights chief Zeid Ra'ad al-Hussein said airstrikes on Eastern Ghouta were continuing this morning, as he decried "prolific slaughterhouses" in Syria and other conflicts.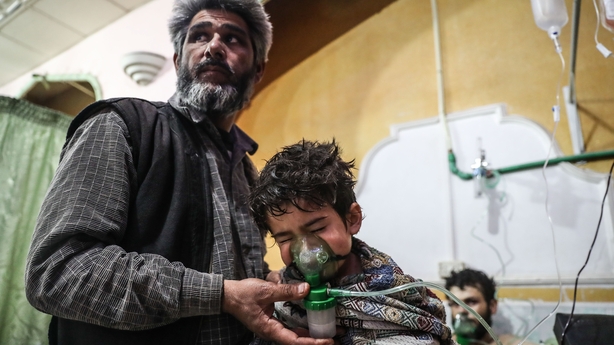 Local health authorities have said several people suffered symptoms consistent with exposure to chlorine gas and one child was killed in the latest attack.
A local branch of the opposition Syrian Interim Government's Ministry of Health said victims, ambulance drivers and others smelt chlorine after "an enormous explosion".
"At least 18 victims were treated with oxygen nebulising sessions," it said.
The claims could not be independently verified. The Syrian army could not immediately be reached for comment.
The Syrian government has consistently denied using chemical weapons in the war that will soon enter its eighth year.
The Russian defence ministry accused rebels of preparing to use toxic agents in Eastern Ghouta so they could later accuse the government of employing chemical weapons.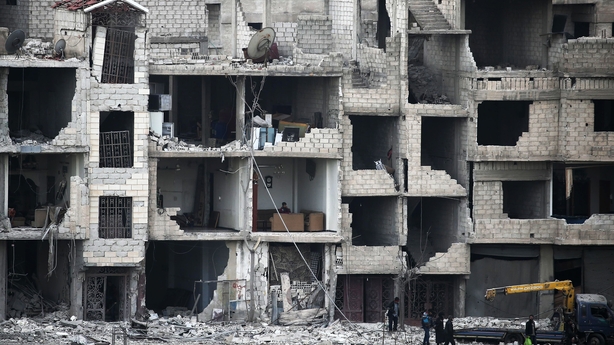 In recent weeks, the United States has accused Syria of repeatedly using chlorine gas as a weapon. Rebel-held areas of the Ghouta region were hit in a major chemical attack in 2013.
Last year, a joint inquiry by the UN and the Organisation for the Prohibition of Chemical Weapons (OPCW) found the Syrian government was responsible for an April 2017 attack using the banned nerve agent sarin in the opposition-held town of Khan Sheikhoun, killing dozens of people.
The inquiry had previously found that Syrian government forces were responsible for three chlorine gas attacks in 2014 and 2015 and that Islamic State militants used mustard gas.
The Russian defence ministry said rebel leaders were "preparing a provocation with employment of toxic material, aiming at accusing the governmental forces of using chemical weapons against civilian population".