Russia has said there was no agreement at the UN Security Council on a 30-day ceasefire for Syria, where a fierce offensive on a the rebel-held enclave has left at least 400 people dead in five days.
Instead, Russia presented amendments to a draft resolution that would allow aid deliveries and the evacuation of civilians from besieged Eastern Ghouta.
The Security Council has been negotiating the draft resolution on the ceasefire for nearly two weeks as the Syrian government has pressed on with a fierce offensive in the rebel-held area.
Russian Ambassador Vassily Nebenzia said Sweden and Kuwait, which drafted the measure, had requested a vote on the draft resolution even though they are "fully aware there is no agreement on it".
The Security Council needs to reach a "feasible" agreement on a ceasefire and not take a decision that would be "populistic" and "severed from reality," said Nebenzia.
More than 400 people have been killed in the five-day assault by the Syrian government on Eastern Ghouta, which UN Secretary-General Antonio Guterres has described as "hell on earth" for civilians.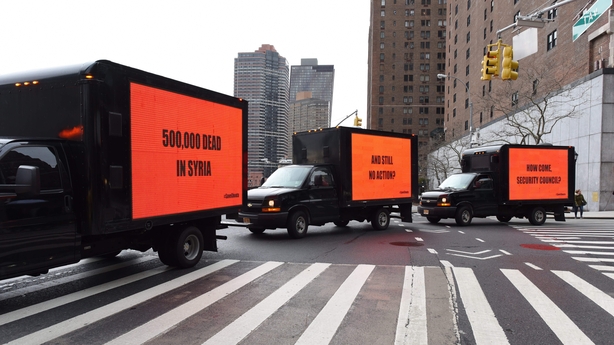 The ambassador cited concerns over measures to enforce the ceasefire and the safe delivery of aid before announcing that he would circulate proposals to amend the draft resolution.
Sweden and Kuwait presented the measure to the council on 9 February, but negotiations have dragged on as Syrian forces backed by Russia escalated their fierce offensive.
The US, France, Britain have called on the council to move to a vote as quickly as possible.
Swedish Ambassador Olof Skoog urged the council to back the ceasefire to "avert a situation that is beyond words in its desperation".
The draft resolution would pave the way for the truce to go into effect 72 hours after the adoption of the measure and for aid deliveries and medical evacuations to begin 48 hours after that.
Russian Foreign Minister Sergei Lavrov was quoted by Russian news agencies earlier as saying that Russia could back the measure if it did not apply to rebel groups who are shelling Damascus.
In a concession to Russia, the draft was amended last week to specify that the ceasefire does not apply to the Islamic State group or Al-Qaeda, but Mr Lavrov appeared to put forward new demands.
"The resolution that is on the table, we are ready to look at it, but we have offered very precise phrasing that would say that the ceasefire would under no circumstances extend to ISIL, Jabhat al-Nusra and those groups cooperating with them and systemically attacking the residential neighborhoods of Damascus," Mr Lavrov said.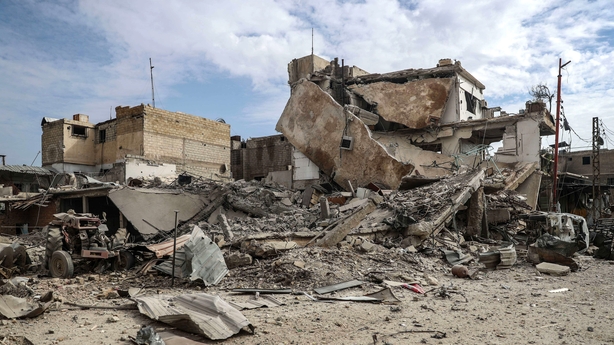 Life in a bomb shelter in Eastern Ghouta: No water, no food, no toilets | https://t.co/PxDVpq09j6 pic.twitter.com/vVT2NUA06Q

— RTÉ News (@rtenews) February 22, 2018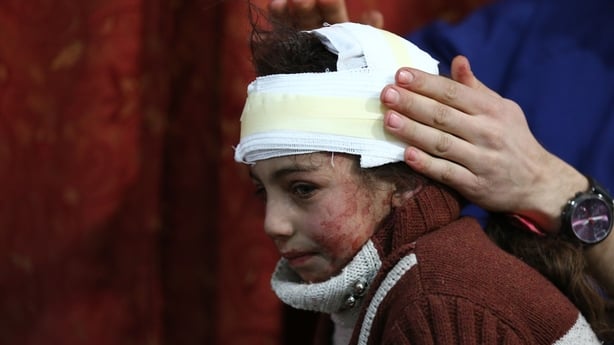 Speaking on RTÉ's Morning Ireland, Ramesh Rajasingham said around 300 civilians have been killed in the area in the last 72 hours, many of them children.
Mr Rajasingham said the last convoy got into Eastern Ghouta on 26 November and the need for water, nutrition and sanitation items is extreme, with 400,000 people living in "desperately cramped and crowded" conditions.
He said that most of the population are living in underground basements in a situation described by the UN as "hell on earth".
A small convoy got into one area on 14 February, accessing around 7,000 people, he said.
Mr Rajasingham said that hundreds of people have been on lists for medical evacuation for many months as there is no way to get medical supplies in. Many people have died waiting to be evacuated to Damascus.
He said a temporary ceasefire would allow access to evacuate them.
More than 20 hospitals and health facilities have been damaged or destroyed in the recent crisis.
He said that hospitals have been rendered inoperable by the airstrikes leaving a "horrible situation" where people needing to be treated cannot get help.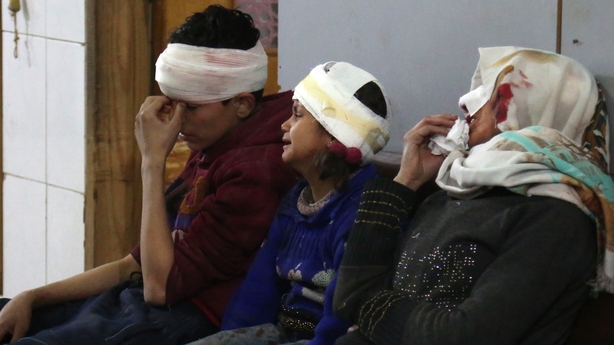 We need your consent to load this rte-player contentWe use rte-player to manage extra content that can set cookies on your device and collect data about your activity. Please review their details and accept them to load the content.Manage Preferences
Meanwhile, German Chancellor Angela Merkel condemned the killing of civilians in Syria as a massacre, adding that Berlin would reach out to Russia in its efforts to stop the violence.
"What we currently see, the dreadful events in Syria, a regime fighting not against terrorists, but against its own people, the killing of children, the destruction of hospitals, all this is a massacre which needs to be condemned," she said.
"We must do everything that is within our power so that this massacre comes to an end."