A surge in attacks by the Syrian government and its allies killed 94 people in the rebel pocket of eastern Ghouta in the space of 24 hours, according to a war monitoring group.
Air strikes, rocket fire and shelling on the besieged suburbs of Damascus also wounded another 325 people, according to the Britain-based Syrian Observatory for Human Rights.
There was no comment from the Syrian military. The Damascus government says it only targets militants.
Factions in Ghouta fired mortars at districts of Damascus, killing a child and wounding eight others, Syrian state media said.
Troops and allied forces struck militant targets there in response, the state news agency SANA said.
The United Nations says nearly 400,000 people live in eastern Ghouta, a pocket of satellite towns and farms under government siege since 2013.
Panos Moumtzis, UN regional coordinator for the Syria crisis, said an "extreme escalation in hostilities" had killed at least 40 civilians and injured more than 150 today.
"The humanitarian situation of civilians in East Ghouta is spiraling out of control," he said in a statement. "Many residents have little choice but to take shelter in basements and underground bunkers with their children."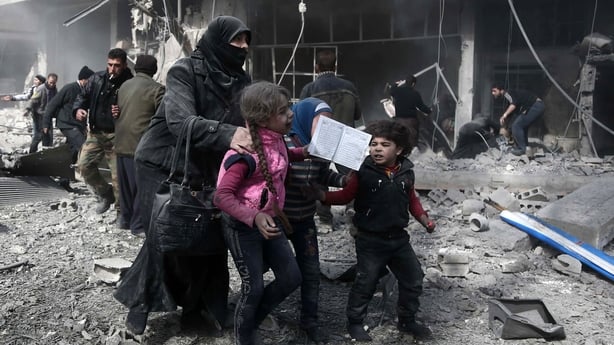 The Syrian Observatory for Human Rights said the latest escalation started on yesterday, and the dead included 18 children.
The local civil defence group said warplanes and artillery had pounded Saqba, Jisreen, and other towns.
The rescue service, which operates in rebel territory, said strikes killed 20 people and wounded dozens in the town of Hammouriyeh alone today.
Syrian President Bashar al-Assad's military gained momentum in the war after Russian war planes entered on his side in 2015, pushing rebels out of major cities, and retaking much of central and eastern Syria from the so-called Islamic State group.
Last week, the United Nations said Syria was seeing some of the worst fighting of the war, which is entering its eighth year.
The multi-sided conflict has killed hundreds of thousands of people and driven millions from their homes.