Jacob Zuma has bowed to political pressure and announced his resignation as President of South Africa.
He made the announcement in a 30-minute farewell address to the nation.
Mr Zuma, who was leader for nine years, said he had "come to the decision to resign as president of the republic with immediate effect".
The 75-year-old said he disagreed with the way the ruling African National Congress party shoved him towards an early exit after the election of Cyril Ramaphosa as party president last December.
"No life should be lost in my name. And also the ANC should not be divided in my name," Mr Zuma said.
Following his announcement, the ANC said that Mr Zuma's resignation provides certainty to the people of South Africa.
"This decision provides certainty to the people of South Africa at a time when economic and social challenges to the country require an urgent and resolute response," said the party's deputy secretary general, Jessie Duarte.
The ANC party instructed Mr Zuma to resign and said its politicans would vote to sack him via a no-confidence vote in parliament scheduled for tomorrow if he had not resign beforehand.
The party's chief whip, Jackson Mthembu, said before Mr Zuma's resignation that Mr Ramaphosa would be sworn in as president as early as Friday.
Mr Zuma's resignation came just hours after police raided the luxury home of the Gupta family, Indian-born billionaire allies of the former president who have been at the centre of corruption allegations against Mr Zuma and his circle for years.
Both Zuma and the Guptas have always denied wrongdoing.
South Africa was captivated by news of the early morning raid on the compound of the Guptas, who were accused two years ago in a 350 page report by a corruption watchdog of using their influence to gain control of state companies and contracts.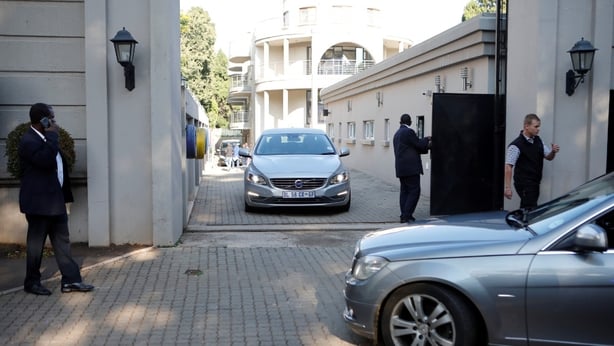 South Africa's state broadcaster, the SABC, said a Gupta family member was among those detained.
A senior judicial source said police expected to arrest up to seven more people and that Gupta family members would be among them.
"You can't bring a matter of this nature to court and not charge the people who have benefited the most," the source, who has knowledge of the police's moves, told Reuters.
A Gupta family lawyer told Reuters none of the Gupta brothers were among those held.
The police said the raid was in connection with a state-funded dairy farm, which prosecutors last month called a "scheme designed to defraud and steal".