Syria has described an overnight strike by the US-led coalition as a "war crime" and called for the coalition to be dismantled.
More than 100 fighters aligned with Syrian President Bashar al-Assad were killed when US coalition and coalition-backed local forces repelled their attack in eastern Syria.
"We demand (that the international community) condemn this massacre and hold the coalition responsible for it," Syrian state news agency reported.
It cited a letter sent by the foreign ministry to the United Nations and saying that the coalition was illegal and should be disbanded.
The heavy death toll underscored the large size of the attack, which the US official said included about 500 opposing forces, backed by air support, artillery, tanks, multiple-launch rocket systems and mortars.
Syrian state media said the US-led coalition against Islamic State had bombed pro-government forces east of the Euphrates river in Deir al-Zor province.
One of the state TV outlets reported "dozens of dead and wounded".
No US troops were killed or wounded in the incident, officials said.
Some US troops had been embedded at the time with Syrian Democratic Forces (SDF), whose headquarters in Syria's Deiral-Zor province had been a target of the attack.
One SDF fighter was wounded, officials said.
"We suspect Syrian pro-regime forces were attempting to seize terrain SDF had liberated from Daesh in September 2017," an official said.
The forces were "likely seeking to seize oilfields in Khusham that had been a major source of revenue for Daesh from 2014 to 2017".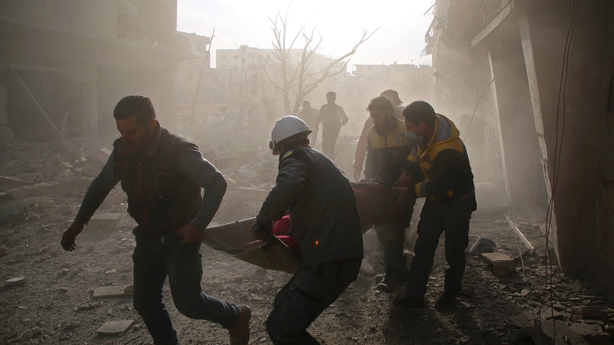 Meanwhile, four days of Syrian government raids on the rebel-held enclave of Eastern Ghouta have reportedly killed more than 200 civilians.
Syrian government troops have launched numerous air attacks on Eastern Ghouta since Monday, resulting in the death of at least 207 civilians.
The British-based Syrian Observatory for Human Rights claimed that 58 people were killed today, including more than a dozen children.