A Russian pilot was killed in clashes with rebels after they downed his warplane over Syria's northwest province of Idlib.
The pilot was killed during "a fight" after ejecting by parachute, the TASS news agency quoted Russia's Defence Ministry as saying.
"The pilot was killed as he fought Islamist rebels who had shot down his plane and were taking him captive," said the Syrian Observatory for Human Rights chief Rami Abdel Rahman.
A jihadist-dominated alliance has claimed to have downed the jet in a statement issued through an online propaganda channel.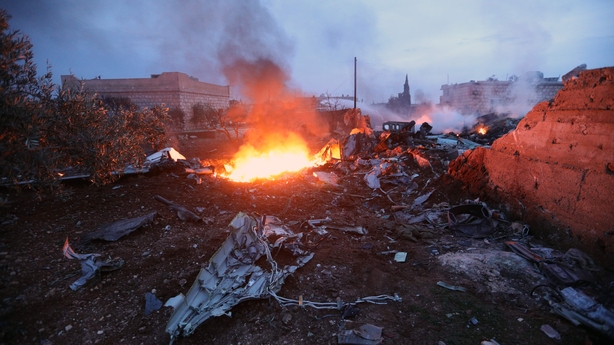 Hayat Tahrir al-Sham made the claim through the affiliated media channel Ibaa, but it did not mention the fate of the warplane's pilot.
Syrian troops launched a fierce offensive on Idlib in late December, with backing by Russian warplanes.
"There have been dozens of Russian air strikes in the area over the past 24 hours. This plane was also carrying out raids there," said Mr Abdel Rahman.
Opposition factions have shot Syrian regime planes in the past, but downing Russian warplanes is much rarer.
In August 2016, a Russian military helicopter was shot down over Syria and all five people on board were killed.
Moscow began conducting air strikes in Syria in September 2015.
Two months later, Turkey shot down a Russian warplane, leading to the worst crisis in ties between the two countries since the end of the Cold War.
Five Turkish troops killed in attack on tank
Five Turkish troops were killed in an attack on a tank during Turkey's cross-border operation against Kurdish militia in Syria, the Turkish army said in a statement.
All five soldiers were in the tank when it was hit in the northeast of the Afrin region of northern Syria where Turkey is waging a campaign against the Syrian Kurdish People's Protection Units (YPG) militia seen by Ankara as a terror group, the army said.
The latest clashes brought to 12 the number of Turkish troops killed so far in operation "Olive Branch", launched by Turkey on 20 January.
The Turkish army and allied Ankara-backed Syrian rebel forces are seeking to oust the YPG from its western border stronghold of Afrin but the operation so far has been marked by fierce clashes.