The death toll from yesterday's attack in the Afghan capital Kabul in which a bomb was hidden in an ambulance before blowing up near government buildings has reached 103, according to officials.
The bombing, which occurred in a crowded area of the city centre, has also left another 235 people injured, officials said. 
"Unfortunately a number of wounded people have died in hospital. The number of martyrs is now 103," interior minister Wais Barmak said.
The Afghan government has accused Pakistan of providing support for the militants who carried out the attack.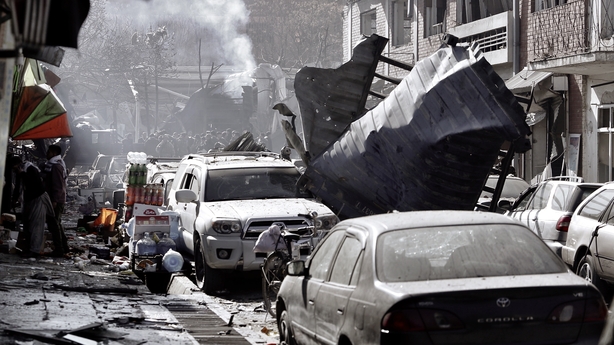 It said the attack was carried out by the Taliban-linked Haqqani network with Pakistani backing.
Islamabad has always denied supporting Afghan militants.
Security officials have also warned that more attacks are possible.
The attack was claimed by the Taliban, a week after they claimed a deadly attack on the city's Intercontinental Hotel.
It was the worst attack seen in the Afghan capital since a truck bomb near the German embassy killed 150 people last May.
We need your consent to load this rte-player contentWe use rte-player to manage extra content that can set cookies on your device and collect data about your activity. Please review their details and accept them to load the content.Manage Preferences
After a deadly week in which an office of the aid group Save the Children in the eastern city of Jalalabad was also attacked, Afghan President Ashraf Ghani's western-backed government has faced growing pressure to improve security.
Despite a major tightening in checks following the 31 May attack, the ambulance which was packed with explosives for this latest attack was able to get through the checkpoints.
The attack, described as "an atrocity" by the head of the UN mission in Afghanistan, drew universal condemnation from allies and neighbouring countries.
US President Donald Trump, who last year sent more American troops to Afghanistan and ordered an increase in airstrikes and other assistance to Afghan forces, said the attack "renews our resolve and that of our Afghan partners".
He called for "decisive action" against the Taliban following the attack.
US officials have said that the new strategy is putting pressure on the Taliban.
Following a recent visit to Kabul, the US ambassador to the United Nations Nikki Haley said the strategy was working and pushing the insurgents closer to peace talks.
However, the Taliban have dismissed any suggestion that they have been weakened by the US approach and say they will only agree to talks when international forces leave Afghanistan.
The attack, in one of the most heavily protected parts of the city, close to foreign embassies and government buildings, demonstrated that their ability to mount deadly high profile attacks that undermine confidence in the government remains undiminished.