US Vice President Mike Pence has pledged that the US would move its embassy from Tel Aviv to Jerusalem "by the end" of 2019.
In a speech to the Israeli parliament, he also urged Palestinians to "return to the table" of negotiations and resume long-stalled peace talks with Israel.
US President Donald Trump last month recognised Jerusalem as the capital of Israel and said he would move the US Embassy there.
His comments dismayed Palestinians who claim the eastern part of the city and angered Arab states across the region.
"In the weeks ahead, our administration will advance its plan to open the United States Embassy in Jerusalem and that United States Embassy will open before the end of next year," Mr Pence told the Knesset.
"Jerusalem is Israel's capital and, as such, President Trump has directed the State Department to immediately begin preparations to move the United States Embassy from Tel Aviv to Jerusalem."
The speech was briefly disrupted at the outset by Israeli Arab parliament members, who held up protest signs in Arabic and English, reading "Jerusalem is the capital of Palestine". They were then ejected by ushers.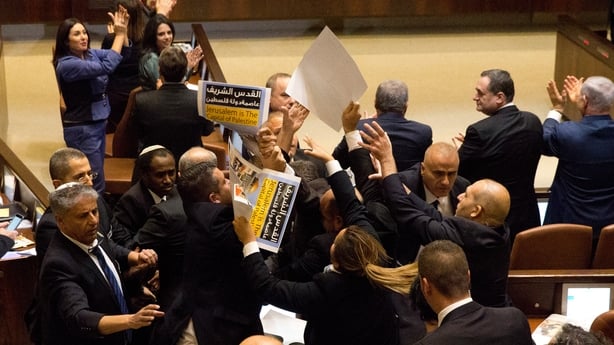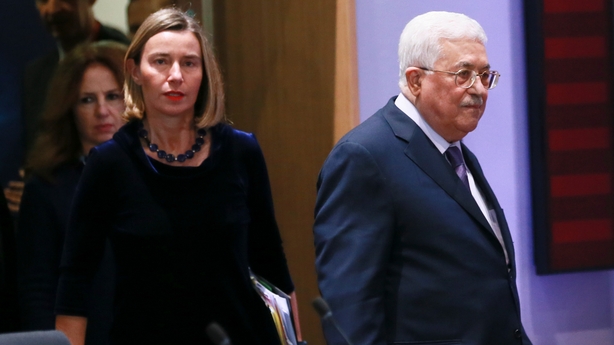 Palestinians seek East Jerusalem, including the walled Old City with its holy sites, as the capital of their own future state.
Israel, which occupied East Jerusalem in 1967 in a move not internationally recognised, regards all of the city as its "eternal and indivisible capital".
Elsewhere, the European Union has assured Palestinian President Mahmoud Abbas it supported his ambition to have East Jerusalem as capital of a Palestinian state.
At a meeting in Brussels with EU foreign ministers, Mr Abbas repeated his call for East Jerusalem as the capital as he urged EU governments to recognise a state of Palestine immediately, arguing that this would not disrupt negotiations with Israel on a peace settlement for the region.
EU Foreign Affairs chief Federica Mogherini called on those involved in the process to speak and act "wisely", with a sense of responsibility.
"I want to reassure President Abbas of the firm commitment of the European Union to the two-state solution with Jerusalem as the shared capital of the two states," Ms Mogherini said.