Russian President Vladimir Putin and many Orthodox pilgrims braved a bitter winter snap overnight to take the annual plunge into icy water in a traditional ritual marking the baptism of Jesus.
In some areas extreme temperatures, which in parts of Siberia dropped to -68C, forced the local authorities to cancel the rite that marks Epiphany.
Surrounded by Orthodox priests and glittering religious icons, and with the temperature hovering around -5C, Mr Putin lowered himself into the freezing waters of Lake Seliger some 350km northwest of Moscow.
Many other Russians followed suit, submerging themselves in the freezing waters in a widely observed ritual normally observed on 18-19 January and which last year saw two million people take the plunge.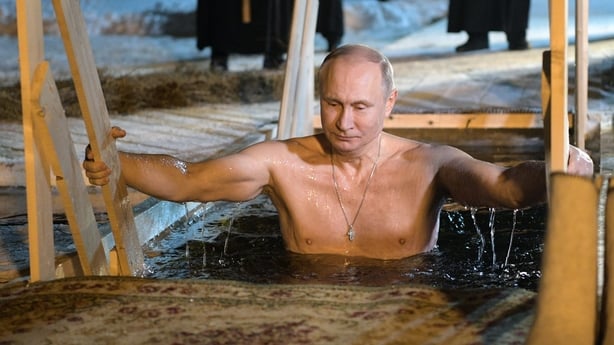 In Norilsk, a city beyond the Arctic Circle, local authorities banned the extreme bathing rite "for security reasons" as temperatures hit -52C and strong winds whipped up a blizzard, RIA Novosti news agency reported.
Many faithful also marked the date in neighbouring Ukraine and Belarus, both of which are also predominantly Orthodox.
According to Orthodox tradition, worshippers are supposed to immerse themselves three times - in the name of the Father, the Son and the Holy Spirit - to remember the baptism of Jesus in the River Jordan.
To mark the occasion, Orthodox priests also go out to bless rivers and reservoirs, and even bodies of water like the Black Sea and the Caspian Sea.