A salmonella scandal at French dairy group Lactalis has affected 83 countries, where 12 million boxes of powdered baby milk are being recalled, the company's CEO has said.
The Food Safety Authority of Ireland (FSAI) has confirmed that none of the infant formula recalled by the company in France came to Ireland.
Emmanuel Besnier, scion of the secretive family behind one of the world's biggest dairy groups, was speaking publicly for the first time since an outcry erupted over claims the company hid the salmonella outbreak at a plant making the product.
"We must take account the scale of this operation: more than 12 million boxes are affected," he said, adding that distributors would no longer have to sort through the produce to find the contaminated powder.
"They know that everything has to be removed from the shelves," Mr Besnier said.
He also said that the company would "pay damages to every family which has suffered a prejudice".
His promise comes two days after Lactalis widened a product recall to cover all infant formula made at its Craonplan, regardless of the manufacture date, in an bid to contain the fallout from a health scare that risks damaging France's strategic agribusiness in overseas markets.
Mr Besnier, who was summoned to the French finance ministry on Friday, said that the consequences of this health crisis for consumers, including babies under six months, were at the forefront of his mind.
"It is for us, for me, a great concern," he told the Journal du Dimanche.
Hundreds of lawsuits have been filed against the group by families who say their children got salmonella poisoning after drinking powdered milk made by the company.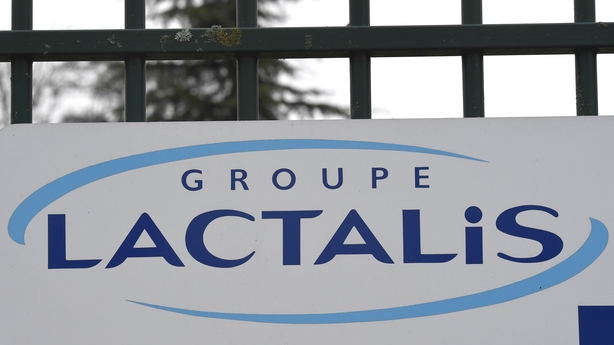 So far French officials have reported 35 cases of infants getting salmonella from the powder, while one case has been reported in Spain and another is being investigated in Greece.
An association representing victims said the authorities are underestimating the number of cases.
"There are complaints and there will be an investigation with which we will fully collaborate. We never thought to act otherwise," Mr Besnier said.
Created in 1933 by Mr Besnier's grandfather, Lactalis has become an industry behemoth with annual sales of some €17 billion, with products including Galbani ricotta and mozzarella in Italy.
With 246 production sites in 47 countries, its list of products also features household names like President butter and Societe roquefort.
Two of those brands, Picot and Milumel baby milk, were the subject of chaotic international recalls issued in mid-December after dozens of children fell sick.
The scandal deepened this month when French investigative weekly Le Canard Enchaine reported that state inspectors had given a clean bill of health to the Lactalis site in Craon, northwest France, in early September.
They failed to find the salmonella bacteria that had been detected by Lactalis's own tests in August and November, which were not reported to the authorities.
The company said it was not legally bound to report the contamination.