Ten children were among 24 people killed in air strikes on rebel territory near the Syrian capital Damascus.
The attacks came as the UN's humanitarian chief paid his first visit to the country.
The British-based Syrian Observatory for Human Rights claimed that either government or Russian aircraft were responsible for the raids.
The most deadly of the raids killed 13 civilians, including seven children, in the Hammuriyeh district of eastern Ghouta.
Rebels bombarded two districts of the capital in retaliation, with Syrian state media reporting four people were killed.
Eastern Ghouta has been under government siege since 2013 and its estimated 400,000 inhabitants are suffering severe shortages of food and medicine.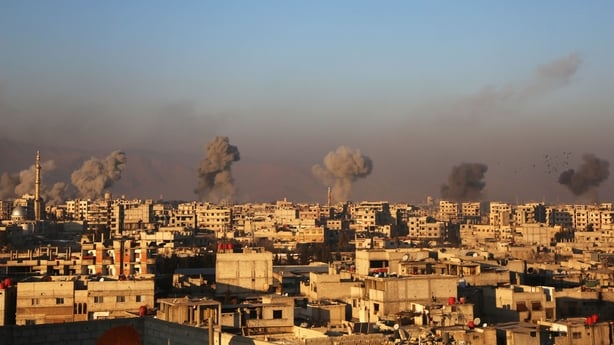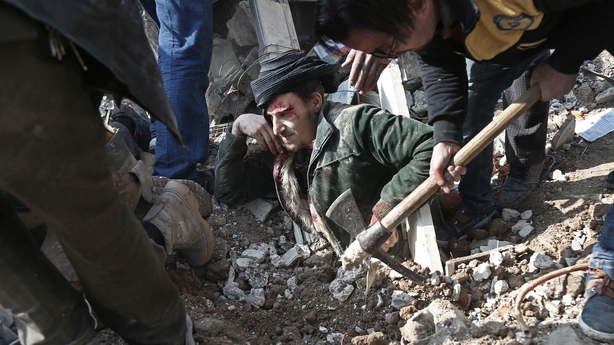 The deadliest strikes hit the Hammuriyeh district, while more than 80 people were reportedly wounded in the bombardments of the rebel territory.
An AFP correspondent saw a rescuer emerge from the rubble carrying a child, as a man trapped up to his waist waited for people to dig him out.
The latest bloodshed in Syria's war, which is estimated to have claimed the lives of 340,000 people since 2011, came as UN humanitarian boss Mark Lowcock discussed getting aid to civilians.
Mr Lowcock, who took over as under-secretary-general for humanitarian affairs in September, met Foreign Minister Walid Muallem as the UN seeks greater access to besieged populations.
A child is rescued from the rubble of a collapsed building in Eastern Ghouta, Syria, after the region came under renewed bombardment today pic.twitter.com/swz7g5dfqA

— RTÉ News (@rtenews) January 9, 2018
Just arrived in #Damascus for 3-day mission in #Syria. Will meet Gov't and other key stakeholders and see first hand humanitarian situation & response

— Mark Lowcock (@UNReliefChief) January 9, 2018
At least 24 people have been killed in air strikes near the Syrian capital Damascus, with ten children among the dead pic.twitter.com/dwYp8k7VHK

— RTÉ News (@rtenews) January 9, 2018
The United Nations has said some 500 people are in critical condition inside eastern Ghouta and need to be evacuated for urgent medical treatment.
Twenty-nine patients, mainly children, were allowed out in December under a deal struck between the regime and rebels.
Eastern Ghouta was one of four "de-escalation zones" agreed under a deal between rebel and regime backers but the opposition stronghold remains the target of intense regime air strikes.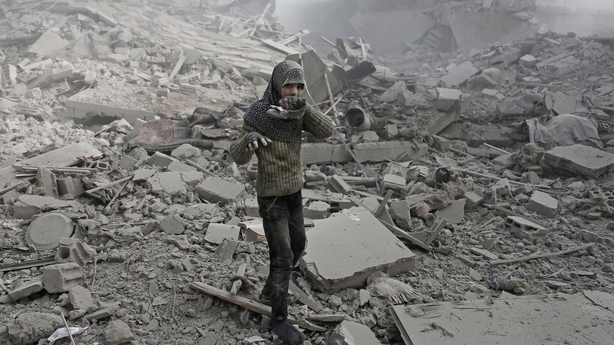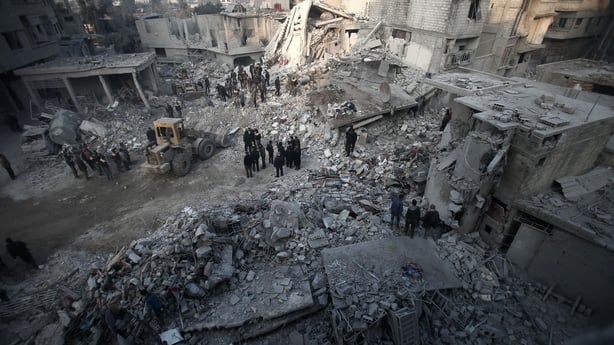 Syrian state news agency SANA also reported that Israeli jets and missiles struck regime positions overnight northeast of Damascus.
The agency said the Syrian army had hit an Israeli plane as they rebuffed the attack, but added missiles had caused damage.
Israel has sought to remain on the sidelines of the Syrian conflict but has carried out air raids against regime forces and allied fighters from Lebanese group Hezbollah.
Syria's protracted conflict has tipped dramatically in the favour of President Bashar al-Assad thanks in major part to a two-year military intervention by Russia.
Mr Assad's forces are currently conducting an operation to carve out territory in the northwestern Idlib province, the last one in Syria that had remained fully beyond their control.