A powerful blizzard has battered the northeast of the United States, knocking out power for tens of thousands of people and causing travel chaos amid a long cold snap that has gripped much of the country for more than a week and killed more than a dozen people.
Thousands of flights were canceled, firefighters scrambled to rescue motorists from flooded streets in Boston, snow plows and salt trucks rumbled along roads and highways, and New York City's two main airports halted flights due to whiteout conditions.
Schools were closed through much of the region, and Boston Mayor Marty Walsh said schools in his city would remain closed tomorrow.
Blizzard warnings were in effect along the east coast from North Carolina to Maine.
The National Weather Service forecast winds up to 113km/h, which downed power lines.
Almost 80,000 homes and businesses in the northeast and southeast, where the storm struck yesterday, were without power.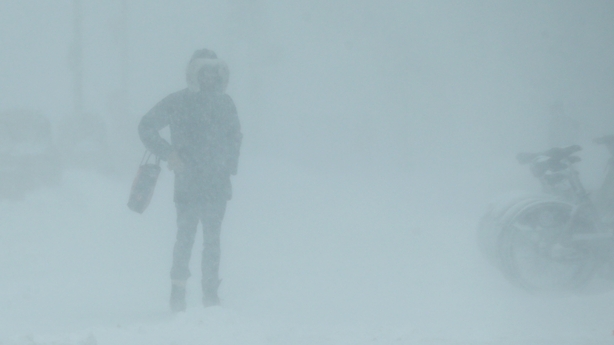 Up to 46cm of snow was forecast for Boston and coastal areas of northern New England. Officials feared fast-dropping temperatures after the storm passed would turn remaining snow on roadways to ice.
The storm was powered by a rapid plunge in barometric pressure that some weather forecasters were referring to as bombogenesis or a "bomb cyclone" and which brought high winds and swift, heavy snowfall.
The wintry weather has been blamed for at least 14 deaths in the past few days, including four fatalities in North Carolina traffic accidents and three in Texas due to cold.
Aer Lingus said its flights from Dublin and Shannon to Boston were cancelled today but planned to operate all other flights to and from North America.
The airline said that anyone due to travel to or from New York, Newark or Boston today can postpone their trip for seven days free of charge.
Nearly 5,000 US airline flights were canceled. New York's John F Kennedy International Airport and LaGuardia Airport temporarily halted all flights due to whiteout conditions, the Federal Aviation Administration said.
At those airports, the metropolitan area's third major airport in Newark, New Jersey, and Boston's Logan International Airport, as many as three out of four flights were called off, according to tracking service FlightAware.com.
Passenger train operator Amtrak was running reduced service in the northeast, while mass-transit systems in major metropolitan areas, including New York and Boston, remained open.
In the southeast, some cities saw their heaviest snowfall in nearly 30 years yesterday, according to AccuWeather.com senior meteorologist Alan Reppert.
Charleston, South Carolina, received 13.46cm of accumulation, within an inch of its record, while Tallahassee, Florida saw its first measurable snow since 1989.
State officials in Connecticut, New Jersey and Massachusetts ordered nonessential workers to stay home. In Maine, Governor Paul LePage ordered state offices closed for the day.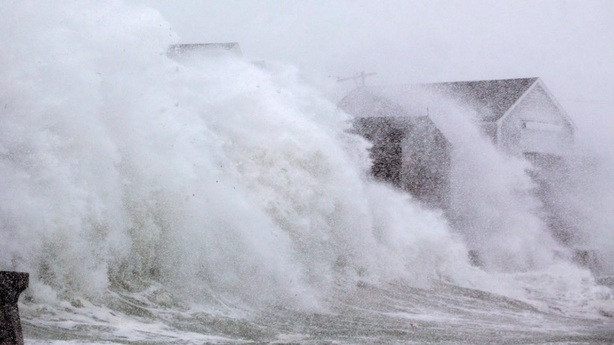 The snowstorm brought a break in extremely cold weather that has gripped much of the region since Christmas, frozen part of Niagara Falls, played havoc with public works and impeded firefighting in places where temperatures barely broke -6.7C.
Some 65,000 homes and businesses in the Northeast were without power early today, though that number was expected to rise as the storm intensifies across the region.
That raised fears that people would be left without power and heat tomorrow and during the weekend when temperatures are forecast to drop sharply.
"We can handle snow," New York Governor Andrew Cuomo said at a news conference. "It's snow plus the wind which is going to cause the trouble today. The wind is going to be high all through the day."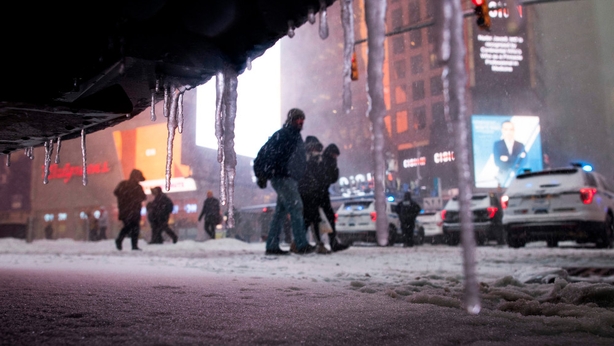 Schools were ordered closed in New York, many parts of New Jersey, Boston and elsewhere throughout the region.
The bombogenesis phenomenon occurs when a storm's barometric pressure drops 24 millibars in 24 hours. As a result, the accumulation of snow and winds intensifies, which can cause property damage and power outages.