US President Donald Trump has warned Kim Jong-un that he possesses a nuclear button that is "much bigger and more powerful" than that of the North Korean leader.
Mr Trump's message came after Mr Kim used his annual New Year address to warn he had a "nuclear button" on his desk.
The US President tweeted that his nuclear button works.
North Korean Leader Kim Jong Un just stated that the "Nuclear Button is on his desk at all times." Will someone from his depleted and food starved regime please inform him that I too have a Nuclear Button, but it is a much bigger & more powerful one than his, and my Button works!

— Donald J. Trump (@realDonaldTrump) January 3, 2018
Meanwhile, the US envoy to the United Nations has dismissed the proposed dialogue between the Koreas as a "band-aid".
Nikki Haley warned that the US would never accept a nuclear-armed North Korea.
"North Korea can talk to anyone they want, but the US is not going to recognise it or acknowledge it until they agree to ban the nuclear weapons that they have," she said.
The proposed talks came after Mr Kim expressed an interest in dialogue and North Korean competitors taking part in the Winter Olympics in Pyeongchang next month.
South Korea responded positively to the move, proposing high-level talks in the border village Panmunjom on 9 January.
It has also led to the restoration of a hotline between the two countries to facilitate those talks, which will also look at other matters of mutual interest.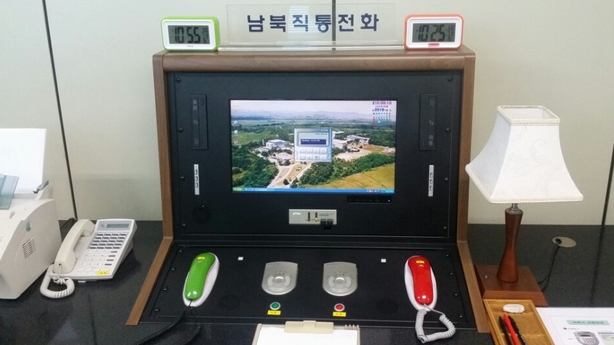 "By upholding a decision by the leadership, we will make close contact with South Korea in a sincere and faithful manner," the Yonhap news agency quoted Ri Son-gwon, the head of North Korea's agency handling inter-Korean affairs, as saying.
South Korea has welcomed the promise to reopen the hotline, saying it was a "very significant" decision.