A huge fire has destroyed around 1,400 vehicles in a car park near Liverpool's Echo Arena, leaving many people stranded in the city overnight.
Witnesses described abandoning their vehicles, grabbing possessions and running for their lives after the blaze broke out in an old Land Rover and rapidly spread.
The fire appears to have been extinguished, leaving the charred remains of cars on the seven levels of the multi-storey car park.
There were no reported injuries but a shelter had been set up to look after many people who were unable to get home or get alternative accommodation.
The fire service said crews rescued two dogs from one of the vehicles and they are thought to have been the only animals in the car park at the time.
The fire caused the cancellation of the Liverpool International Horse Show on New Year's Eve.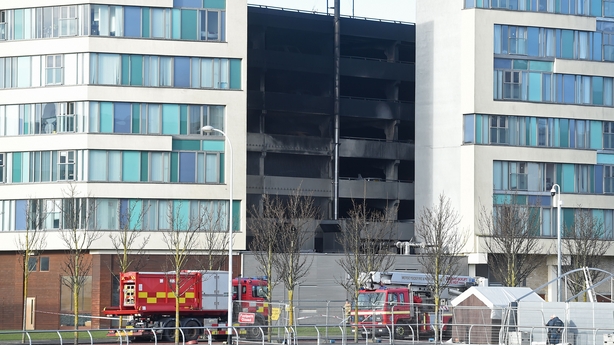 One witness told how she saw an old Land Rover on level three with its engine on fire and helped to lead some of the horses to safety.
Sue Wright said: "The flames were just shooting out of the engine and coming past the tyres. It looked like a ball of fire on the front of the car and it was producing a lot of smoke.
"We just left everything in the car - handbags, telephone, cash - and just went. It was all insignificant as long as everyone was okay and we could get the horses out.
"I saw one car on fire but it was clear it was ferocious and spreading."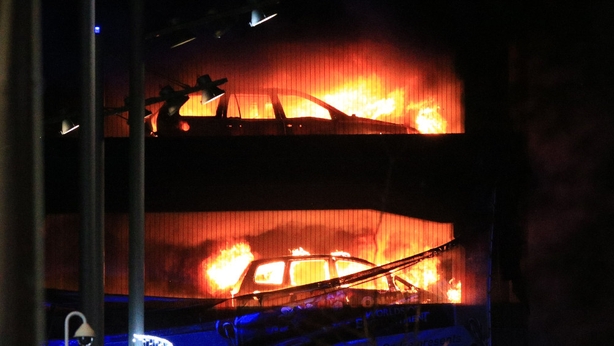 Firefighters worked into the night trying to control the blaze, which began yesterday afternoon.
Crews were first called at 4.42pm and were on scene eight minutes later.
The area was evacuated along with some apartments nearby due to smoke billowing from the blaze.
Merseyside Police said initial investigations indicated that an "accidental fire within a vehicle caused other cars to ignite".
"We believe that all vehicles parked in the car park have been destroyed and advise owners to contact their insurance companies," it said.