Revellers gathered in Dublin and towns all over the country to celebrate the new year, joining people in cities across the world to ring in 2018.
Spectators in Dublin watched a special light show from George's Quay and a concert at the Custom House to mark the end of 2017.
Security was especially tight in Paris, London and Berlin following terror attacks in recent years.
There were colourful firework displays in Sydney, Hong Kong and London, while Dubai celebrated the New Year with a spectacular midnight laser show at Burj Khalifa, the tallest tower in the world.
In New York, around two million people braved the coldest new year weather for a century to welcome 2018 in Times Square, with police enforcing intensely strict security.
Residents and tourists faced the worst new year freeze since 1917, with temperatures of 9F (-12.7C).
After two attacks in the city inspired by the so-called Islamic State group, in December and October, security was tightened with more than 20 roads closed.
Barricades and sand-filled trucks were in place, along with bomb-sniffing dogs and more officers on the ground.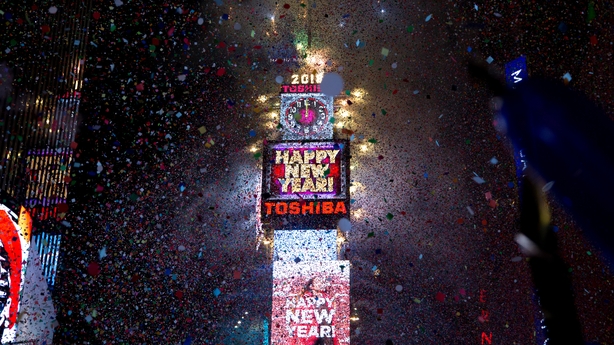 We need your consent to load this rte-player contentWe use rte-player to manage extra content that can set cookies on your device and collect data about your activity. Please review their details and accept them to load the content.Manage Preferences
Police also carried out two rounds of security screening on everyone who entered the Times Square security perimeter, the largest in history.
On entering the secured area, revellers emptied and discarded their purses and other small bags, which were not allowed.
After a gunman killed 58 people in Las Vegas in October by firing into a crowd from his hotel room, police also deployed personnel to hotels and restaurants for the first time.
The celebrations in Times Square featured music performances, fireworks, 1,360kg of confetti and 25,000 balloons.
Mayor Bill de Blasio and this year's special guest, activist Tarana Burke, leader of the #MeToo movement against sexual harassment, pressed a button at midnight to start the traditional dropping of a large luminous ball down a pole.
Among the celebrities joining the party were Mariah Carey, whose performance last year was plagued with technical problems, Neil Diamond, Nick Jonas and Camila Cabello.