Australians voted in favour of allowing same-sex couples to marry, official results showed, sending the task of legalising marriage equality to a deeply divided parliament.
The postal survey saw 16 million registered voters among Australia's population of 24 million asked for their views on overturning the prohibition.
With a turnout of 79.5%, the vote had a bigger turnout than the Brexit referendum and US presidential election.
As the majority voted in favour, the parliament will vote by December on legislation to lift the prohibition.
Prime Minister Malcolm Turnbull acknowledged the result on his twitter feed and said he intends to make the wish of the people the "law of the land by Christmas".
The people of Australia have spoken and I intend to make their wish the law of the land by Christmas. This is an overwhelming call for marriage equality. pic.twitter.com/PWZbH5H71r

— Malcolm Turnbull (@TurnbullMalcolm) November 14, 2017
"The Australian people have tasked us to get this done. This year, before Christmas - that must be our commitment," Mr Turnbull later told reporters in Canberra
He said: "Australians have voted yes for fairness, they have voted yes for commitment, they have voted yes for love.
"Now it's up to us here in the Parliament of Australia to get on with it, to get on with the job the people have asked us to do and get it done this year, before Christmas.
"That must be our commitment.
"We asked the Australian people for their view. This was an unprecedented exercise in democracy, a voluntary survey in which 80% participated and over 61%, 61.6%, have said yes.
"That's an overwhelming participation rate and an overwhelming yes vote.
"I know that many people - a minority obviously - voted no.
"But we are a fair nation - there's nothing more Australian than a fair go, than equality, than mutual respect."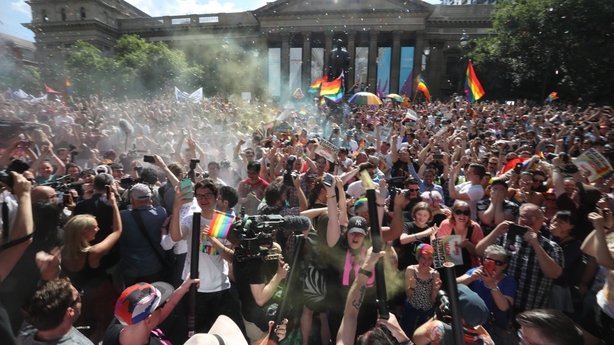 We need your consent to load this rte-player contentWe use rte-player to manage extra content that can set cookies on your device and collect data about your activity. Please review their details and accept them to load the content.Manage Preferences
Mr Turnbull added: "I say to all Australians, whatever your views on this issue may be, we must respect the voice of the people.
"We asked them for their opinion and they have given it to us. It's unequivocal, it's overwhelming."
Liberal senator Eric Abetz, who backed the No campaign, said: "The decision by the Australian people reflected in the postal survey is a decision that I regret but respect.
"Changing a fundamental societal institution that pre-existed the nation-state is something which should rightly be decided by the people as a whole and it has been with a very strong turnout despite claims from many quarters that this process would fail.
"While disappointed by the result, I am heartened by the strong 'no' vote in the face of such a relentless campaign from the 'yes' campaign by the media, political elites and celebrities.
"The voices of the millions of 'no' voters deserve to be recognised in the framing of any legislation.
"A hubristic winner-takes-all approach in this matter would ignore the will of millions of Australians who have concerns about changing marriage."
Ireland voted for marriage equality in a referendum in 2015.
---
Australia begins postal vote on same-sex marriage
Australia to hold postal vote on same-sex marriage
---
Independent Minister Katherine Zappone welcomed the result in Australia saying it shows that "when given a chance people across our world will speak out and demand equality for all".
She said the outcome will boost marriage equality campaigners in Northern Ireland and elsewhere.
Same-sex marriage has been one of the sticking points preventing the return of a devolved power-sharing administration at Stormont, with Sinn Féin demanding the Democratic Unionists stop blocking changes to the law.
The DUP has used a controversial Stormont voting mechanism to prevent the legalisation of same-sex marriage, despite most Assembly members supporting the move at the last vote.
Same-sex marriage is legal in England, Wales and Scotland.