Soldiers took over the headquarters of Zimbabwe's ZBC state broadcaster, two members of staff and a human rights worker said, compounding speculation of a coup against 93-year-old President Robert Mugabe.
Some ZBC members of staff were manhandled when soldiers occupied the premises, the sources said.
However, staff were told they "should not worry" as the soldiers were merely there to protect the site, one source added.
Earlier, Zimbabwe's ruling party accused the army chief of "treasonable conduct" after he challenged President Robert Mugabe over the sacking of the vice president, in the latest sign of worsening instability.
The ZANU-PF party said in a statement that general Constantino Chiwenga's criticism was "clearly calculated to disturb national peace... and suggests treasonable conduct on his part as this was meant to incite insurrection."
Several tanks were seen moving on the outskirts of the Zimbabwean capital Harare this afternoon.
It comes a day after the head of the armed forces said he was prepared to "step in" to end a purge of supporters of the former vice president Emmerson Mnangagwa.
Mr Mnangagwa was sacked last week after repeatedly clashing with First Lady Grace Mugabe, who is widely seen as vying to replace her 93-year-old husband when he dies.
The reason for the military presence was not immediately clear, but the vehicles may have been on routine manoeuvres. The military was not available to comment.
Witnesses said the tanks turned before reaching Harare, heading towards the Presidential Guard compound in a suburb called Dzivarasekwa on the outskirts of Harare.
President Robert Mugabe, the only leader Zimbabwe has known in 37 years of independence, was chairing a weekly cabinet meeting in the capital at the time.
Harare appeared calm and there were no troops in the city as business continued normally.
Mr Mnangagwa, a veteran of Zimbabwe's 1970s liberation wars, was popular with the military.
It viewed his removal as part of a purge of independence-era figures to pave the way for Mr Mugabe to hand power to his 52-year-old wife.
"We must remind those behind the current treacherous shenanigans that, when it comes to matters of protecting our revolution, the military will not hesitate to step in," Mr Chiwenga said at a news conference yesterday.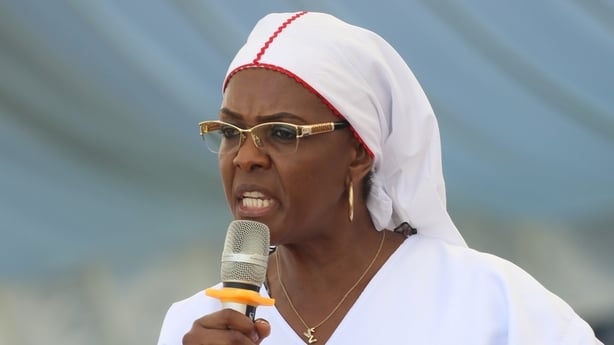 Mrs Mugabe has developed a strong following in the powerful youth wing of the ruling party.
Her rise has brought her into conflict with the independence-era war veterans, who once enjoyed a privileged role in the ruling party under Mr Mugabe, but who have increasingly been banished from senior government and party roles in recent years.