US President Donald Trump will not hold a meeting with Russian counterpart Vladimir Putin on the sidelines of a regional summit in Vietnam, the White House has said, after the two countries sent mixed messages about the encounter.
Relations between Moscow and Washington have plummeted as a US probe has accused Mr Trump's former campaign aides of secretly meeting Kremlin-connected officials - a charge Moscow denies.
Both leaders are attending the Asia Pacific Economic Cooperation (APEC) forum in the city of Danang and there had been conflicting indications as to whether a face-to-face was on the cards.
"Regarding a Putin meeting, there was never a meeting confirmed, and there will not be one that takes place due to scheduling conflicts on both sides," White House press secretary Sarah Huckabee Sanders said.
However, the Russian government was holding out for a potential meeting between the two leaders, who will be in Vietnam for the next two days.
"There is no clarity yet," Mr Putin's spokesman Dmitry Peskov said, adding that officials were "continuing" attempts to agree on a meeting.
Both Russia and Mr Trump had previously suggested that talks were likely to take place.
Last weekend, the US president said "it's expected we'll meet with Putin" to discuss North Korea's nuclear ambitions.
Four days later, Kremlin aide Yury Ushakov told Russian news agencies that the two would hold a meeting in Vietnam with the time and place still to be determined.
However, hours later, US Secretary of State Rex Tillerson said no decision had been made on talks, which would be the first between the two men since they met at the G20 summit in Germany in July.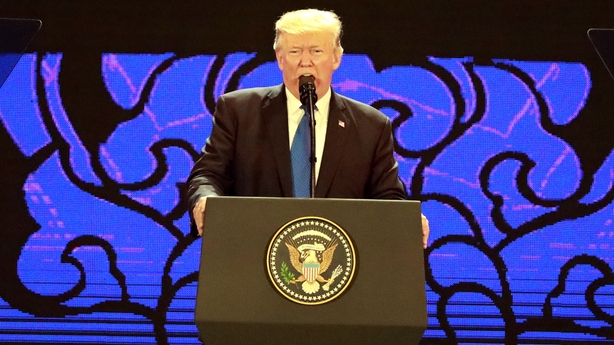 Mr Trump has set out a strong message on trade at the APEC meeting, saying the United States could no longer tolerate chronic trade abuses and would insist on fair and equal policies.
He said the United States was ready to make a bilateral deal with any country in the Indo-Pacific region, but only on the basis of "mutual respect and mutual benefit".
"When the United States enters into a trading relationship with other countries or other peoples, we will from now on expect that our partners will faithfully follow the rules," he said in Danang.
"We expect that markets will be open to an equal degree on both sides and that private investment, not government planners, will direct investment," he said.
Mr Trump arrived in Vietnam from China on the fourth leg of a 12-day trip to Asia.
Redressing the balance of trade between Asia and the United States is at the centre of his "America First" policy which he says will protect US workers.
The difference between Mr Trump's and China's approaches was made more stark by comments in a later speech from Chinese President Xi Jinping, who said globalisation was an irreversible trend and voiced support for multilateral trade deals.
While China has by far the biggest trade surplus with the United States, Vietnam is also on the list of those surpluses the Trump administration seeks to reduce.
APEC, which has long championed free trade, has itself been convulsed by the changes under Mr Trump.