US bombers accompanied by fighter jets flew off the east coast of North Korea today in a show of force designed to project American military power in the face of Pyongyang's weapons programmes, the Pentagon said.
It was the furthest north of the Demilitarised Zone (DMZ) any US fighter or bomber aircraft has flown off North Korea's coast in this century, Pentagon spokeswoman Dana White said.
"This mission is a demonstration of US resolve and a clear message that the president [Donald Trump] has many military options to defeat any threat," Ms White said.
"We are prepared to use the full range of military capabilities to defend the US homeland and our allies," she added.
Meanwhile, North Korea's foreign minister assailed Mr Trump at the opening of his address to the United Nations this evening, calling him a "mentally deranged person full of megalomania".
Ri Yong-ho told the National Assembly that Mr Trump's threats to "totally destroy" his country had made "our rocket's visit to the entire US mainland inevitable all the more".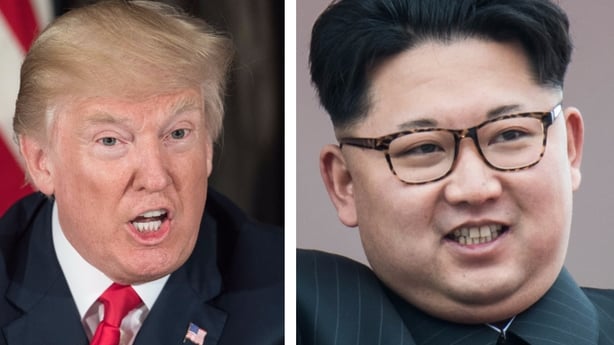 Mr Ri said the US leader who "holds the nuclear button" posed "the gravest threat to international peace and security today".
In his first address to the General Assembly, Mr Trump called leader Kim Jong-Un "Rocket Man" on a "suicide mission", prompting Mr Kim to warn in turn that the US president would "pay dearly" for his threat.
Mr Ri accused Mr Trump of turning the United Nations into a "gangsters' nest where money is respected and bloodshed is the order of the day," and of insulting Kim.
North Korea in recent weeks detonated its sixth nuclear bomb and has test-fired intercontinental missiles - saying it needs to defend itself against hostility from the United States and its allies.
Meanwhile, a small earthquake near North Korea's nuclear test site today was probably not man-made, the nuclear proliferation watchdog and a South Korean official said, easing fears Pyongyang had exploded another nuclear bomb just weeks after its last one.
Chinese earthquake officials said the magnitude 3.4 quake was a "suspected explosion" but both the Comprehensive Nuclear Test Ban Treaty Organisation (CTBTO), which monitors nuclear tests, and a South Korean meteorological agency official said they believed it was a natural quake.
"A key method is to look at the seismic waves or seismic acoustic waves and the latter can be detected in the case of a man-made earthquake," said the South Korean official, who asked for anonymity.
"In this case we saw none. So as of now, we are categorising this as a natural earthquake."
We need your consent to load this rte-player contentWe use rte-player to manage extra content that can set cookies on your device and collect data about your activity. Please review their details and accept them to load the content.Manage Preferences
The earthquake, which South Korea put at magnitude 3.0, was detected in Kilju county in North Hamgyong Province, where North Korea's known Punggyeri nuclear site is located, the official said.
All of North Korea's previous six nuclear tests registered as earthquakes of magnitude 4.3 or above. The last test on 3 September registered as a 6.3 magnitude quake.
A secondary tremor detected after that test could have been caused by the collapse of a tunnel at the mountainous site, experts said at the time.
Satellite photos of the area after the 3 September quake showed numerous landslides apparently caused by the massive blast, which North Korea said was an advanced hydrogen bomb.
The head of the nuclear test monitoring agency CTBTO said today that analysts were "looking at unusual seismic activity of a much smaller magnitude" than the 3 September test in North Korea.
Russia's emergency ministry said background radiation in nearby Vladivostok was within the natural range.
The US Geological Survey said it could not conclusively confirm whether the quake, which it measured at magnitude 3.5, was man-made or natural.