Catalonia's leader has accused the Spanish government of imposing a "de facto state of emergency" in the region with a series of measures to prevent an illegal referendum from taking place.
It comes after Spanish police arrested Catalonia's junior economy minister in their first raid of government offices in the region ahead of the 1 October referendum on independence.
Carles Puigdemont has also claimed the Spanish state had implemented a "de facto suspension of Catalonia's self-governance" by, for instance, tightening control over Catalan finances.
Hundreds of protesters gathered outside the offices of the regional government's economy ministry in the centre of Barcelona's tourist district, chanting "They will not pass" and "We will vote", a Reuters witness said.
Police efforts to stop a planned vote on splitting from Spain have intensified in recent days as the wealthly northeastern region shows no signs of halting a referendum which the central government says is illegal.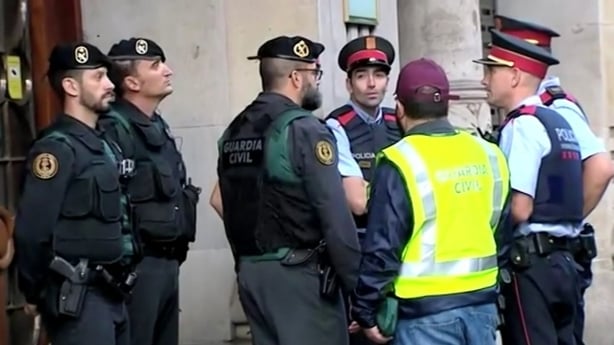 State police entered offices of the Catalan region's economy, interior, foreign affairs, welfare, telecommunications and tax departments, the sources said.
A dozen high-ranking local officials were arrested, La Vanguardia newspaper said.
The police confirmed they were carrying out raids connected with the referendum, but did not give details.
The Catalan government sources could not confirm the other arrests.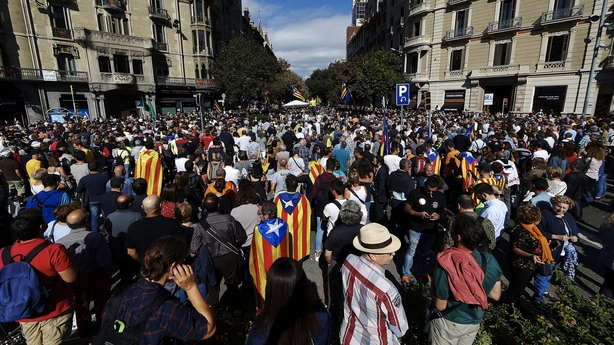 The Constitutional Court has suspended the vote after the central government challenged its legality.
Spain's central government says the referendum goes against the country's 1978 constitution, which states Spain is indivisible.
Police, acting under court orders, have stepped up raids on printers, newspaper offices and private delivery companies in recent days in a search for campaign literature, instruction manuals for manning voting stations and ballot boxes.
Yesterday, Spain's Civil Guard, a national police force, seized over 45,000 envelopes packed in cardboard boxes that the Catalan government was ready to send to notify people around the region about the referendum.
The first of hundreds of Catalan mayors were also forced to appear before the state prosecutor yesterday after they said they would back the referendum.