Officials have said at least one person has been killed as Hurricane Maria battered Guadeloupe, as it moves toward the US Virgin Islands, causing widespread devastation and "mind boggling" damage.
The person was killed by a falling tree, the local administration said, while two more were reported missing after their ship sank off Desirade, the easternmost island in the French territory's archipelago.
Authorities said the person "did not respect orders to stay inside", adding that "several floods have been signalled" around Pointe-a-Pitre, Guadeloupe's largest city.
Coastal areas around the capital Basse-Terre have also been "submerged".
"All of the archipelago's road networks have been affected by falling trees or branches," a statement from authorities said.
Authorities have said 40% of households in the territory of some 400,000 had no electricity, and 25% of landlines had been cut.
The US National Hurricane Center has described Maria as "potentially catastrophic".
Maria, the second major storm to hit the Caribbean this month, is moving toward the US Virgin Islands and Puerto Rico after it ripped through the small island nation of Dominica, causing "mind boggling" damage.
Briefly downgraded to a Category 4, Maria regained Category 5 strength as it churned about 325km southeast of St Croix, with maximum sustained winds of 260km/h, the National Hurricane Center (NHC) said in an advisory.
The centre of the storm, described by the NHC as "potentially catastrophic," passed almost directly over Dominica overnight.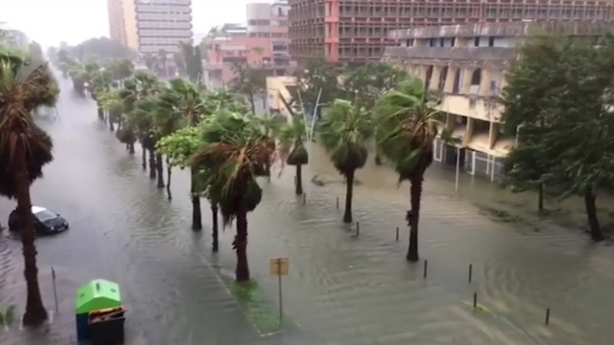 Dominica is a former British colony and home to 72,000 people that lies in the eastern Caribbean about halfway between the French islands of Guadeloupe, to the north, and Martinique, to the south.
Prime Minister Roosevelt Skerrit, in a Facebook post around the time Maria made landfall, said the storm has blown the roof off his home, adding, "I am at the complete mercy of the hurricane. House is flooding."
He then added, "I have been rescued."
We do not know what is happening outside. We not dare look out. All we are hearing is the sound of galvanize flying. The sound of the fury of the wind. As we pray for its end!
In a later update, Mr Skerrit said he had received initial reports of widespread devastation, saying "it is devastating...indeed, mind boggling."
"So far we have lost all what money can buy and replace", but he said he feared possible deaths "as a result of likely landslides triggered by persistent rains".
Millions more in the Virgin Islands and Puerto Rico, still reeling from Hurricane Irma earlier this month, have another day or two to prepare for the storm, forecasters said.
Hurricane Maria moves toward the US Virgin Islands and Puerto Rico after it ripped through Guadeloupe pic.twitter.com/8BDG1BLrD6

— RTÉ News (@rtenews) September 19, 2017
If Maria retains its strength, it would be the most powerful hurricane to hit Puerto Rico in 85 years, since a Category 4 storm swept the US island territory in 1932, NHC spokesman Dennis Feltgen said.
The last major hurricane to strike Puerto Rico directly was Georges, which made landfall there as a Category 3 storm in 1998, he said.
The governor of Puerto Rico, Ricardo Rossello, urged island residents on Twitter to brace for the storm's arrival, saying, "It is time to seek refuge with a family member, friend or head to a state shelter."
Puerto Rico narrowly avoided a direct hit two weeks ago from Hurricane Irma, which reached a rare Category 5 status and ranked as the most powerful Atlantic storm on record before devastating several smaller islands, including the US Virgin Islands of St Thomas and St John.
US Virgin Islands Governor Kenneth Mapp said Maria was due to pass late tonight or early tomorrow within 16km of the island of St Croix, which escaped the brunt of Irma.
The island is home to about 55,000 year-round residents, roughly half of the entire territory's population.
Mr Mapp warned that hurricane-force winds were expected to hit St Croix for eight hours, accompanied by up to 46cm of rain that would be followed by nearly a week of additional showers.
At an evening news conference, he predicted most islanders would be without electricity for weeks, and that "some folks will not get power in months."
Forecasts predict Maria will be the worst storm to hit St Croix since Hugo, a Category 4 storm, in 1989.
The territory's two other main islands, St Thomas and St John, which lie to the north of St Croix, sustained widespread heavy damage from Irma, which killed more than 80 people in the Caribbean and Maria marks the 13th named Atlantic storm of the year, the seventh hurricane so far this season and the fourth major hurricane - defined as Category 3 or higher - following Harvey, Irma and Jose, the NHC said.
Those numbers are all above average for a typical season, which is only about half over for 2017.
Climate change adding to intensity of storms
A climatologist and former Professor at Maynooth University has said it is too soon to quantify the number of storms that are occurring as a result of climate change.
Speaking on RTÉ's News at One, Professor John Sweeney said there is a climate change component which he said is adding to the intensity of the storms.
He believes storms in the Caribbean would be less frequent if the level of greenhouse gases were lower in the atmosphere.
Prof Sweeney also said that the scale of the damage caused by Hurricane Maria could be significantly greater due to the amount of debris yet to be cleared after Hurricanes Irma and Harvey.
He said that the temperature of waters in the Caribbean is fuelling the intensity of recent storms.
He said the water, which is over 30 degrees Celsius, is generating an above average amount of water vapour, which he described as the "power source" for large hurricanes.