Myanmar leader Aung San Suu Kyi has come under more pressure to halt violence against Rohingya Muslims that has sent nearly 125,000 of them fleeing over the border to Bangladesh in just over ten days.
UN Secretary-General Antonio Guterres warned of the risk of ethnic cleansing and regional destabilisation.
He urged the UN Security Council to press for restraint and calm in a rare letter to express concern that the violence could spiral into a "humanitarian catastrophe".
Reuters reporters saw hundreds more exhausted Rohingya arriving on boats near the Bangladeshi border village of Shamlapur today, suggesting the exodus was far from over.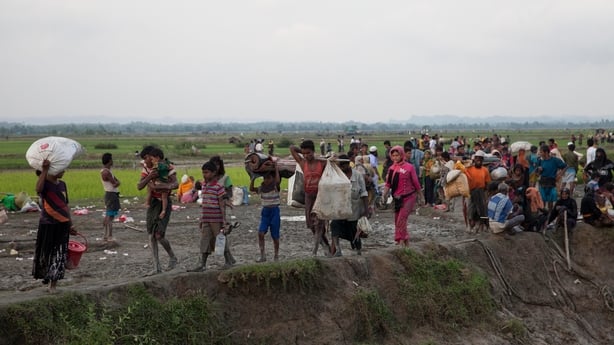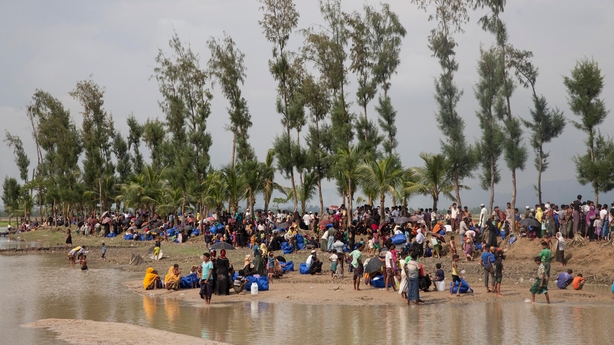 The International Organisation for Migration said humanitarian assistance needed to increase urgently and that it and partner agencies had an immediate funding gap of $18m over the next three months to boost life-saving services for the new arrivals.
Indonesian Foreign Minister Retno Marsudi said after meeting Bangladeshi Prime Minister Sheikh Hasina in Dhaka that Jakarta was ready to help Bangladesh in dealing with the crisis.
"This humanitarian crisis shall be ended", she told reporters in Dhaka, a day after she held talks in the Myanmar capital.
The latest violence in Myanmar's northwestern Rakhine state began on 25 Auguet, when Rohingya insurgents attacked dozens of police posts and an army base.
The ensuing clashes and a military counter-offensive have killed at least 400 people and triggered the exodus of villagers to Bangladesh.
Myanmar officials blamed Rohingya militants for the burning of homes and civilian deaths, but rights monitors and Rohingya fleeing to Bangladesh say the Myanmar army is trying to force them out with a campaign of arson and killings.
When asked if the violence could be described as ethnic cleansing, Mr Guterres told reporters: "We are facing a risk, I hope we don't get there."
"I appeal to all, all authorities in Myanmar, civilian authorities and military authorities, to indeed put an end to this violence that, in my opinion, is creating a situation that can destabilise the region," he said.
The treatment of Buddhist-majority Myanmar's roughly 1.1 million Muslim Rohingya is the biggest challenge facing Ms Suu Kyi, who has been accused by Western critics of not speaking out for the minority that has long complained of persecution.
Myanmar says its security forces are fighting a legitimate campaign against "terrorists".
About 210,000 Rohingya have sought refuge in Bangladesh since October.
Representatives of Rohingya solidarity groups here have called on Dublin City Council to withdraw the city's highest honour from Ms Suu Kyi because of her failure to halt what they claim are mass killings of innocent members of their community by the country's armed forces.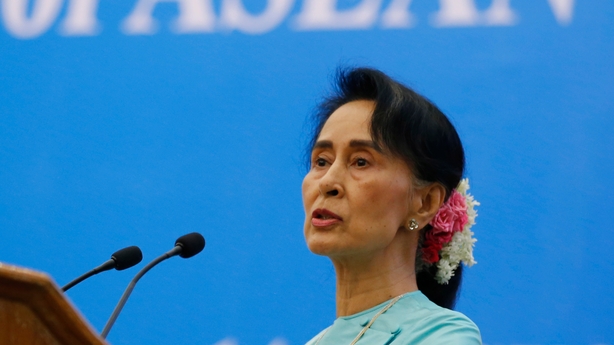 They presented their case to strip Ms Suu Kyi of the Freedom of Dublin City to two independent Dublin city councillors at City Hall this evening.
Councillors Ciarán Perry and Paul Hand agreed to meet Haikal Mansor of the European Rohingya Council and Mohammed Rafiq of Rohingya Ireland who is a refugee living in Carlow Town.
The honour was bestowed on the former leader of a peaceful opposition to the military junta in Myanmar in 2000 after she had spent many years under house arrest.
Ms Suu Kyi, who is also a Nobel Peace laureate, was elected as leader of government is a settlement brokered in 2015.