Eleven people have been confirmed dead and more than a dozen others are feared trapped after a building collapsed in India's financial capital of Mumbai.
Rescue workers are searching for those missing after the 117-year-old, six-storey building collapsed early this morning.
Fourteen people have been hospitalised with four firemen also injured.
Disaster struck early in the morning as Mumbai was emerging from two days of heavy rain that flooded the city and killed 14 people.
"There was a massive bang. We couldn't see anything due to the dust and smoke. Once the dust settled, we realised it was a building collapse," said one local resident.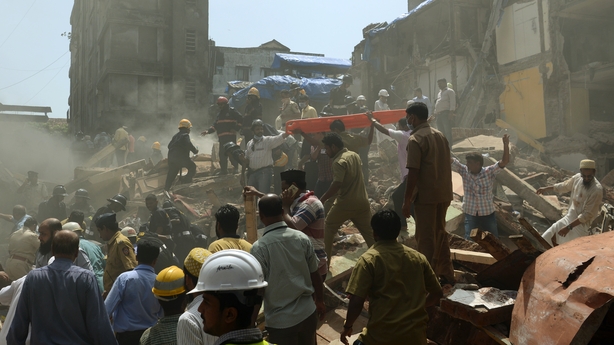 The collapse was the second in Mumbai in a little over a month.
In late July, 17 people were killed when a four-storey building crumbled after undergoing suspected unauthorised renovations.
The building that collapsed today, in one of the most densely populated areas of the city, had been declared dilapidated by the city's municipal housing authority in 2011.
But it was still inhabited by an unknown number of residents.
Desperate relatives of those trapped pleaded with rescuers to help find their loved ones after getting phone calls from trapped survivors.
About 200 police and fire personnel are sorting through the debris.
Police had yet to determine what caused the collapse near Crawford market, a landmark of south Mumbai's old city with narrow streets packed with markets and shops.
Rescuers, including a team from the National Disaster Response Force, said the area's narrow roads were making it difficult to bring in excavators.
A housing trust that was looking to redevelop the area said the building had been declared unsafe in 2011 and the housing board had offered alternative accommodation to tenants, but only seven families had moved out by early 2014.
One resident in the area said people had not been given proper details of what type of new housing they would be provided, making them reluctant to leave.
It was not immediately clear what housing regulators had done to encourage residents to evacuate.
The building was also among 791 buildings that the city's municipal corporation has listed as dangerous this year.