The White House has said it will ask Congress for emergency funding to help pay for recovery in Texas and Louisiana from Storm Harvey, as officials say the number of homes affected has hit 100,000.
"We're going to have damage to publicly owned infrastructure," said homeland security advisor Tom Bossert.
The administration will "put together a responsible supplemental request for Congress," he added.
Mr Bossert did not say how much money would be requested, but it could run into billions of dollars, putting pressure on already strained finances.
The announcement came as the vast scale of the damage from Harvey began to come into focus.
"These are estimates at this point, but it looks like around 100,000 affected homes," he said.
"That's a big number. We're going to have 100,000 affected homes, all with different degrees of insurance - some with flood insurance, some under-insured, some uninsured."
The White House also announced that President Trump would personally donate $1m to the recovery effort.
.@PressSec says President @realdonaldtrump is pledging $1million to the Harvey Relief efforts. @rtenews

— Caitriona Perry (@CaitrionaPerry) August 31, 2017
"I am happy to tell you that he would like to join in the efforts that a lot of the people that we have seen across this country do and he's pledging $1m of personal money to the fund," White House press secretary Sarah Sanders said.
Yesterday, local emergency officials reported two explosions at a flooded chemical plant in the Texas town of Crosby, with the plant's owners saying they "fully expect" more fires to ignite at the plant.
A series of overnight explosions had sent a plume of toxic smoke spewing from the site.
"We're anticipating the remaining eight containers that have not yet started to have product degrade in them, for that to start to happen," Richard Rennard, a senior executive with French group Arkema, told a news conference.
"We fully expect that the other eight containers will do the same thing."
Mr Rennard encouraged anyone who has been exposed to the smoke to seek medical advice, while stressing: "It's not a chemical release that's happening. I want to be clear about that. What we have is a fire."
In the aftermath of Tropical Storm Harvey, the plant company Arkema SA had said it expected chemicals to catch fire or explode at the facility because of lost power to its cooling systems.
Arkema SA evacuated the last remaining workers at the damaged plant on Tuesday, and local authorities ordered the evacuation of residents within a 2.4km radius of the plant, which makes organic peroxides used in the production of plastic resins, polystyrene, paints and other products.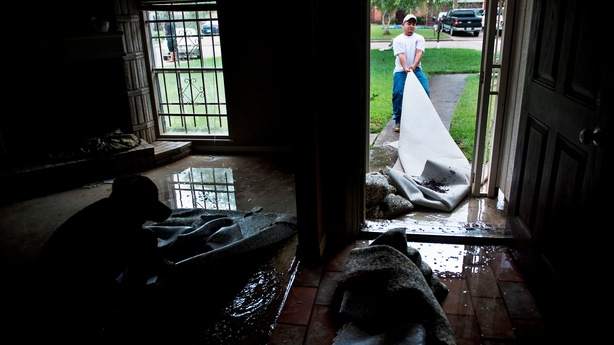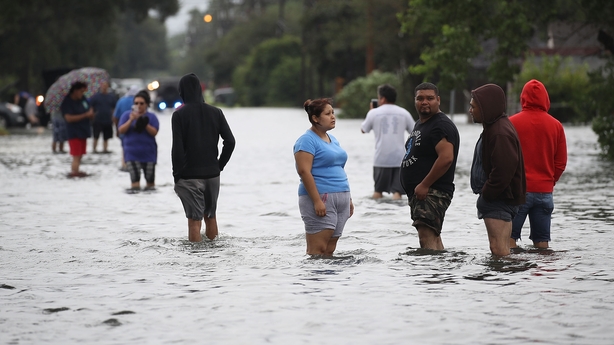 Meanwhile, Harvey has weakened as it moved inland over Louisiana, leaving behind record flooding that drove tens of thousands from their homes in Texas.
The death toll rose as bodies were found in receding waters, with at least 35 people now confirmed dead.
The storm forced 32,000 people into shelters since coming ashore on Friday near Rockport, Texas, on the Gulf of Mexico Coast as the most powerful hurricane to hit the state in half a century.
The storm that paralysed Houston is predicted to be one of the most expensive natural disasters in US history.
Soldiers and police in helicopters and special high-water trucks have rescued thousands of Texans stranded by floodwater dumped by Harvey.
In Beaumont, doctors and nurses evacuated some 190 people from a hospital that halted operations after water service in the city was knocked out by the storm.
"We don't have any water. Water shut down. We can't run dialysis," as well as other procedures, said Hospital security guard Devan Campbell, standing outside as about 190 patients were led out.
Some 779,000 Texans had been ordered to evacuate their homes and another 980,000 had fled on their own amid concerns that swollen reservoirs and rivers could bring new flooding even as Harvey, downgraded to a tropical depression, headed inland, according to Department of Homeland Security acting Secretary Elaine Duke.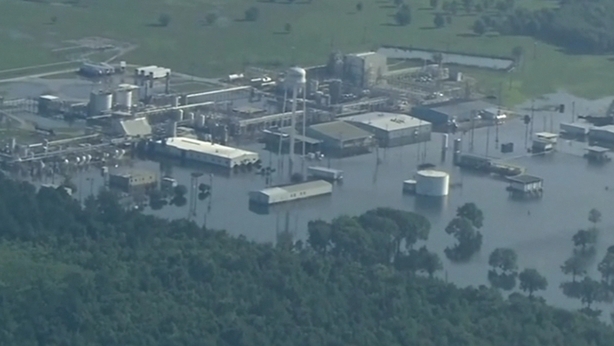 @IrishNetworkHOU and @houstongaels working to help those affected by flooding @IrishNetworkUSA @ITabroad @rtenews https://t.co/OLlHP63NjE pic.twitter.com/1Qz5Ada6zh

— Houston Gaels (@houstongaels) August 31, 2017
It presents the administration of US President Donald Trump with massive humanitarian and rebuilding challenges.
The Houston Fire Department is to begin a block-by-block effort to rescue stranded survivors and recover bodies, Assistant Fire Chief Richard Mann told reporters.
Harvey is forecast to move northeast through Louisiana into Mississippi, dumping 10-20cm of rain, the National Hurricane Centre said.
Flood watches and warnings extend from the Texas-Louisiana coast into Kentucky.
"Our whole city is underwater," said Port Arthur, Texas Mayor Derrick Foreman in a social media post where he also broadcast live video of floodwaters filling his home in the city of 55,000 people, about 160km east of Houston.
Nearly 75cm of rain hit the Port Arthur area, the National Weather Service said.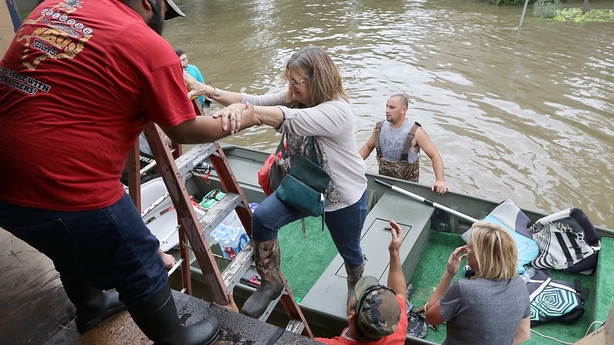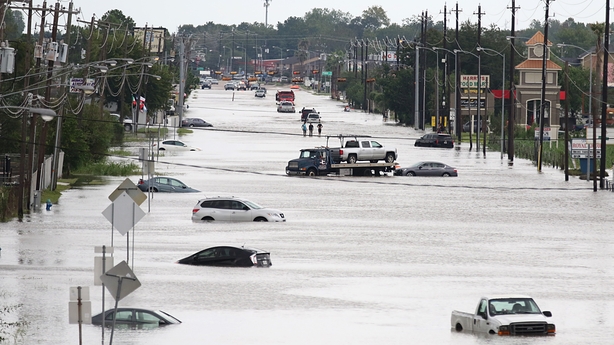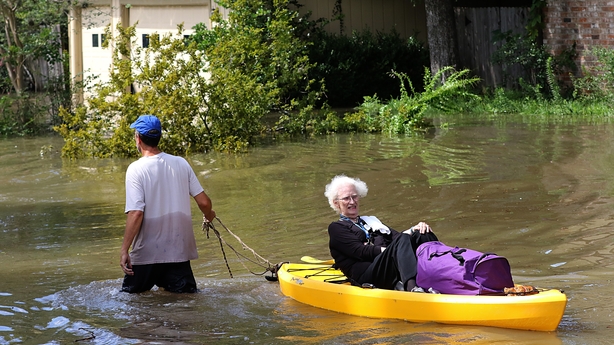 Clear skies in Houston yesterday brought relief to the energy hub and fourth-largest US city after five days of catastrophic downpours.
The first flight out of Houston since the storm hit boarded yesterday evening.
Mayor Sylvester Turner said he hoped the port of Houston, one of the nation's busiest, would reopen soon.
The latest reported deaths yesterday included a married couple who drowned while driving through high water near Simonton, Texas.
Local media said an infant girl was swept away after her parents got out of their pickup truck near New Waverly, Texas, and tried to carry her across rushing water.
Police in Harris County, home to Houston, said 17 people remained missing.
The floods shut the nation's largest oil refinery in Port Arthur in the latest hit to US energy infrastructure that has sent gasoline prices climbing and disrupted global fuel supplies.
Moody's Analytics is estimating the economic cost from Harvey for southeast Texas at $51 billion to $75 billion, ranking it among the costliest storms in US history.
At least $23 billion worth of property has been affected by flooding from Harvey just in parts of Texas' Harris and Galveston counties, a Reuters analysis of satellite imagery and property data showed.