Gunmen in Venezuela shot into a crowd of voters today, apparently killing two people and wounding four during an unofficial referendum organised by the opposition to push for an end to two decades of socialist rule, activists said.
The opposition Democratic Unity coalition said a "paramilitary" gang opened fire in Caracas' poor neighborhood of Catia, where thousands were participating in the opposition event.
Video from the scene showed people scattering as gunshots rang out, many fleeing for sanctuary inside a church.
"We lament this very much, with great pain," opposition spokesman Carlos Ocariz told reporters. "But it is just one of 2,030 voting centres."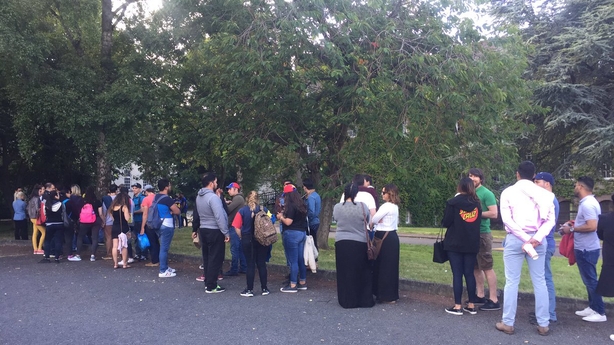 Today's symbolic poll, which asked voters' opinion on President Nicolas Maduro's plan for a controversial new congress, was aimed at denting his legitimacy further amid a crippling economic crisis and months of anti-government protests in which some 100 people have been killed.
Venezuelan migrants, many of whom fled economic crisis and rampant crime in their homeland, voted at improvised polling stations in more than 80 countries across the world, in the unofficial plebiscite.
Mr Maduro, 54, has denounced the referendum as illegal and meaningless. Instead, the former bus driver and union leader is campaigning for an official 30 July vote in support of the proposed new assembly, which would have the power to rewrite the constitution and dissolve state institutions.
The opposition cast today's unofficial referendum as an act of civil disobedience that will be followed by "zero hour," a possible reference to a national strike or other escalated actions against the president.
Lines formed early at makeshift polling stations at theatres and sports fields in the oil-rich nation of 30 million as Venezuelans, furious over food shortages and rampant inflation, sought to make their voices heard.
'People in Venezuela are starving' Hundreds of Venezuelans turn out in Tallaght to vote against their Government @rtenews @morningireland pic.twitter.com/bXrRJw9hTn

— Aisling Kenny (@KennyAKE) July 16, 2017
There was a festive atmosphere under the Caribbean sun in most places, with people blasting music, honking car horns and waving Venezuelan flags.
Despite a strong turnout today, the opposition vote does not appear to augur a short-term change of government or a solution to the country's political stalemate.
Voters were asked if they reject the proposed new assembly, whether they want the armed forces to defend the existing constitution, and if they want elections before Mr Maduro's term in office ends in 2018.