Turkish President Recep Tayyip Erdogan threatened to "chop off the heads" of traitors in a speech marking the first anniversary of the failed coup bid that aimed to oust him from power.
"First of all we will chop off the heads of those traitors," Mr Erdogan told a rally in Istanbul, prompting cries from the crowds that capital punishment should be restored in Turkey.
Reaffirming previous comments, Mr Erdogan vowed to sign any bill passed by parliament to restore capital punishment in Turkey, a move that would effectively end Ankara's European Union membership ambitions.
"We are a state governed by rule of law. If it comes to me after parliament, I will sign it," he said.
More than 240 people died before the July 2016 coup was put down, a show of popular defiance that has likely ended decades of military interference in Turkish politics.
But along with a groundswell of nationalism, the coup's greatest legacy has been the far-reaching crackdown.
Some 150,000 people have been sacked or suspended from jobs in the civil service and private sector and more than 50,000 detained for alleged links to the coup.
Yesterday, the government said it had dismissed another 7,000 police, civil servants and academics for suspected links to the Muslim cleric it blames for the putsch.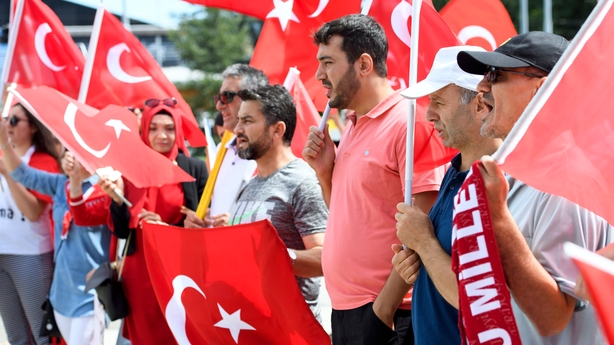 Mr Erdogan also said the suspects being tried on suspicion of involvement in the failed coup should wear uniform clothing like the notorious orange jumpsuits used at US military prison at Guantanamo Bay.
"I spoke to the prime minister and... when they appear in court, let's make them appear in uniform suits like in Guantanamo," Mr Erdogan said.
A controversy erupted last week when one suspect was seen going into court with the word "hero" in large letters in English on a T-shirt.
Mr Erdogan was speaking to hundreds of thousands of supporters gathered at the bridge over the Bosphorus Strait that saw some of the fiercest fighting on the night of the attempted coup.
"We paid a price ... but there is no price for the independence and future we obtained in return for that sacrifice," he said, referring to the deaths of 249 people at the hands of the plotters.
We need your consent to load this rte-player contentWe use rte-player to manage extra content that can set cookies on your device and collect data about your activity. Please review their details and accept them to load the content.Manage Preferences
"Our people did not leave sovereignty to their enemies and took hold of democracy to the death," Prime Minister Binali Yildirim said earlier.
"These monsters will surely receive the heaviest punishment they can within the law."
Critics, including rights groups and some western governments, say that Mr Erdogan is using the state of emergency introduced after the coup to target opposition figures including rights activists, pro-Kurdish politicians and journalists.
The pro-Kurdish Peoples' Democratic Party (HDP) was represented at a parliamentary ceremony by its deputy chairman as the party's two co-leaders are in jail - as are local members of Amnesty International and nearly 160 journalists, according to the Committee to Protect Journalists.
At the parliamentary ceremony, the head of the main opposition Republican People's Party (CHP) decried what he said was the erosion of democracy following the coup.
"This parliament, which withstood bombs, has been rendered obsolete and its authority removed," said Kemal Kilicdaroglu, in a reference to an April referendum that Mr Erdogan narrowly won, giving him sweeping executive powers.
"In the past year, justice has been destroyed. Instead of rapid normalisation, a permanent state of emergency has been implemented," said Mr Kilicdaroglu.