A car bomb killed 20 people in Damascus today and wounded dozens more, the Syrian foreign ministry said, the first such bombing in the Syrian capital since a series of jihadist suicide attacks in March.
The authorities said it was one of three car bombs that were meant to be blown up in crowded areas of the capital today, the first day back to work after the Eid al-Fitr holiday. 
The other two car bombs were destroyed by the authorities, state media said.
Officials said the bombers had been prevented from reaching their intended targets, otherwise the casualty toll would have been higher.
The foreign ministry said the blast that killed 20 people in the Bab Touma area near the Old City had also wounded dozens of others.
We need your consent to load this rte-player contentWe use rte-player to manage extra content that can set cookies on your device and collect data about your activity. Please review their details and accept them to load the content.Manage Preferences
There was no immediate claim of responsibility for the attack. Damascus was hit by two separate, multiple suicide bomb attacks in March, one of them claimed by the so-called Islamic State and the other by the Islamist insurgent alliance Tahrir al-Sham.
Footage broadcast by state TV from Tahrir Square today showed roads scattered with debris, several badly damaged cars, and another one that had been turned into a pile of twisted metal.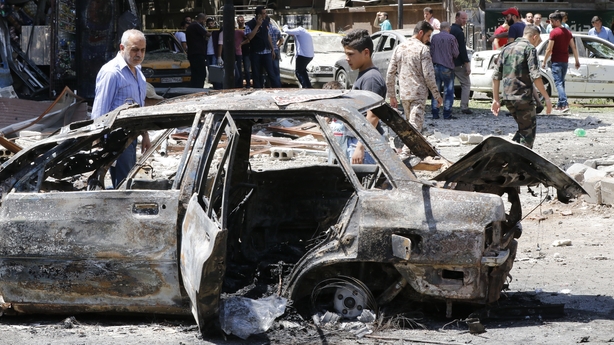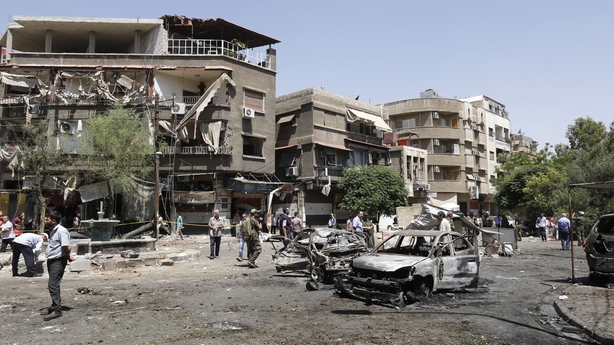 State media said the bomber had been spotted and pursued by the security forces before setting off the bomb after he had been encircled in the area.
Damascus has enjoyed relative security in recent years even as the six-year-long civil war has raged on in nearby areas.
On 15 March, two suicide bomb attacks in Damascus killed several dozen people, most of them at the Palace of Justice courthouse near the Old City. IS claimed responsibility for that attack.
On 11 March, a double suicide attack in the capital killed scores of people, most of them Iraqi Shi'ite pilgrims.
That attack was claimed by the Tahrir al-Sham alliance of Islamist insurgents, which is spearheaded by a jihadist group formerly known as the Nusra Front.
Syrian government forces, which have defeated rebel fighters in several suburbs of Damascus over the last year, are currently battling insurgents in the Jobar and Ain Tarma areas on the capital's eastern outskirts.
A rebel group accused the army of using chlorine gas in the fighting yesterday. The army denied the claim as fabrications.